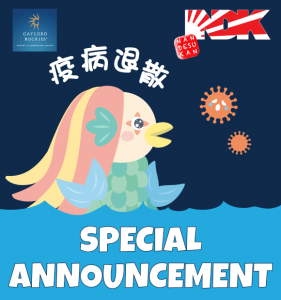 Greetings from the Rocky Mountain Anime Association
Hello Everyone, we hope the new year is treating you well. For the past few months, we have been watching the development of Covid19, and have been monitoring the situation along with the rest of the world. Naturally, we have been getting lots of questions about how things are going to go this year, so here's an update for all of you. We will be updating these questions as new state guidelines are announced. We will also be posting updates on our plans for social distancing and safety precautions.
Q: Is NDK going to happen in 2021?
As of right now, (Late February) we are planning to hold NDK as normal, with significant safety and health precautions to prioritize the health of our attendees. We are continually working with our amazing venue, the Gaylord Rockies to create a safer environment for everyone who wishes to attend NDK. We are still planning on having all of the events that you expect from NDK, but with a socially distanced and well-organized twist.
Q: When can I register for NDK 2021?
Our current plan is to open registration on March 5th at around 5:00 pm. If that date changes, we will update this page as well as our Social Media.
Q: I have a badge rolled over from 2020. Will I be getting an email confirmation for that?
Yes, an email confirmation will be sent to the email account that purchased your 2020 badge. In addition we will plan on having an email lookup on site that will send a copy of your purchased or donated 2020 badge as well before registration opens March 1st.
Q: Where is the hotel link? I want to book my room!
We expect to have the hotel link available from the Gaylord in a few weeks. We are planning to release it the second week in April.
Q: Will NDK be able to operate at normal capacity?
Hopefully so! With the vaccine rolling out across the country, and the infection rates going down, we are watching with cautious optimism. Of course, this all depends on State regulations regarding indoor events, as well as the wishes of the Gaylord. The Gaylord has been working directly with the Governor's office through the entirety of this pandemic, and we know that they are doing everything they can to create the safest environment possible.
Keep in mind that the Gaylord Rockies is a HUGE amount of space, and there is more than twice the amount of room than the last hotel we were at. We are excited to have some breathing room, and we are hoping that will help keep everyone at a safer distance.
Q: Will NDK be requiring attendees to be vaccinated?
At this time, no. Check this page for updates closer to the con.
Q: Will NDK be requiring masks?
Short answer: We don't know yet. NDK's face mask policy will follow the Gaylord Rockies' current requirements in September. Since requirements will change constantly as the vaccine rolls out, we will have a clearer picture of face mask requirements closer to the convention itself.
Q: Why are you guys still planning NDK if you don't know whether or not it's actually happening yet?
As some of you may know, NDK is contractually obligated to the Gaylord. Because of this, we have to behave and plan as if NDK is happening until the Government or the Gaylord itself tells us that we cannot hold it.
Q: Why not just cancel or postpone until later in the year?
As part of our contract with the Gaylord Rockies, we cannot cancel or postpone the convention without an enormous cash penalty, and as a Nonprofit organization, we simply do not have the resources to do that.
Q: What will it take for NDK to be canceled?
If there is a spike in COVID 19 cases, and the State Government puts a hold on all large events and activities, NDK and the Gaylord Rockies will agree with, support and abide by those restrictions.