Nan Desu Kan at the
Gaylord Rockies
$191.00 per night
Rate is for Double occupancy; $20 per additional person per night for NDK ATTENDEES
Resort Fee Included, Taxes and Parking not included. One nights deposit due at time of booking.
Room block is reserved for attendees of NDK only.
Gaylord Rockies Rooms for 2023
Things to keep in mind when booking:
–Please contact the Gaylord Rockies directly for problems with booking at 720-452-6900. NDK Social Media cannot help you with booking.

– Please book your rooms early!! Rooms on Thursday night before the convention generally sell out within a few days of the hotel link release! All rooms sell out around April-May before the convention.

-The NDK discounted rate is for registered NDK Attendees only! Approximately 30 days before the convention, persons who are not registered for NDK will be removed from the roomblock and will pay the full price for a room at the Gaylord, approximately $400-500 usd. We do this to make room for NDK attendees, and not for other parties that may have happened upon this link.

-Once the room block has sold out, we have found that the Marriott Reservations people like to say that "NDK needs to release" more rooms from the block. This is incorrect information. After the block is sold out, there is nothing NDK can do to offer further discounted rates.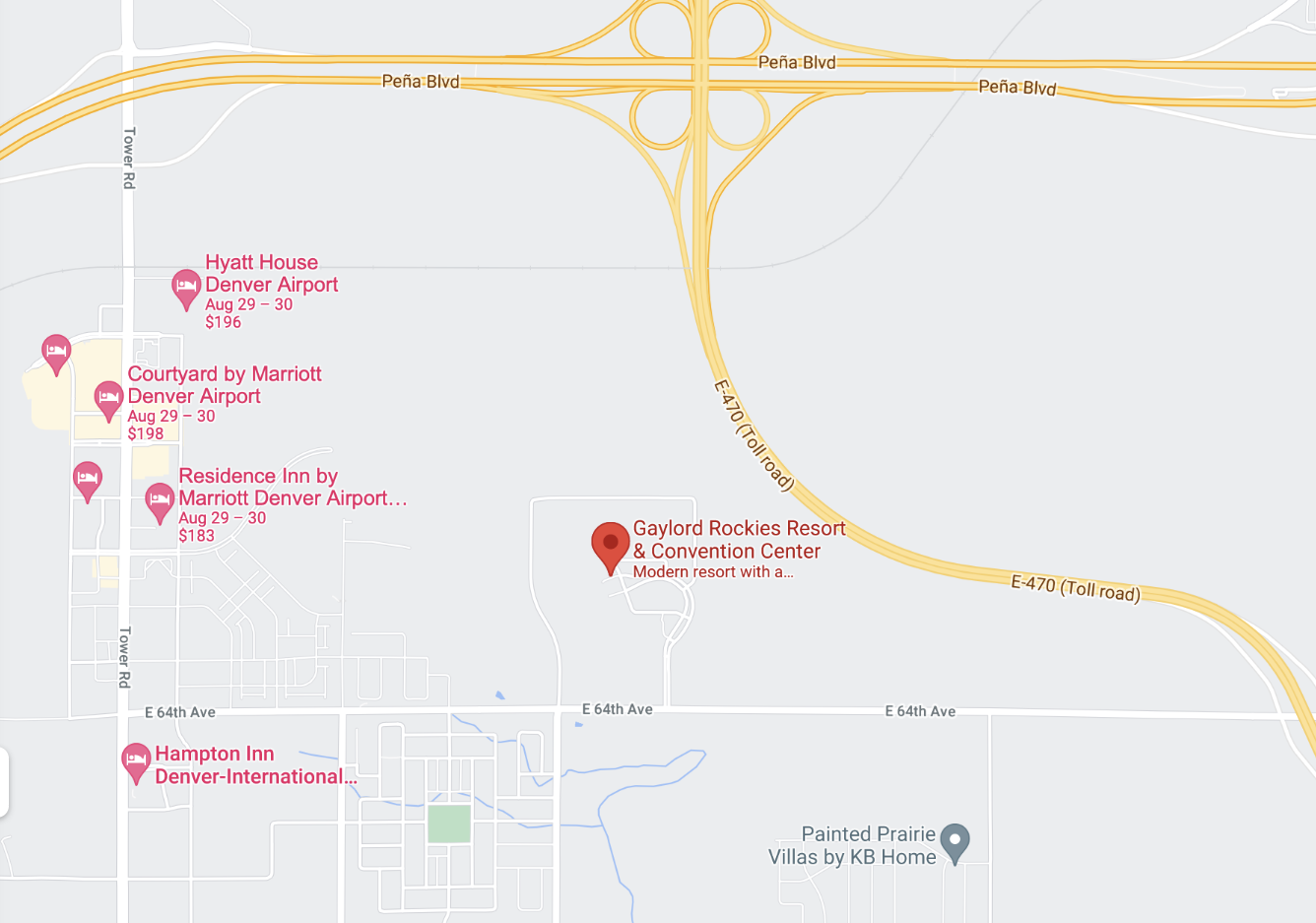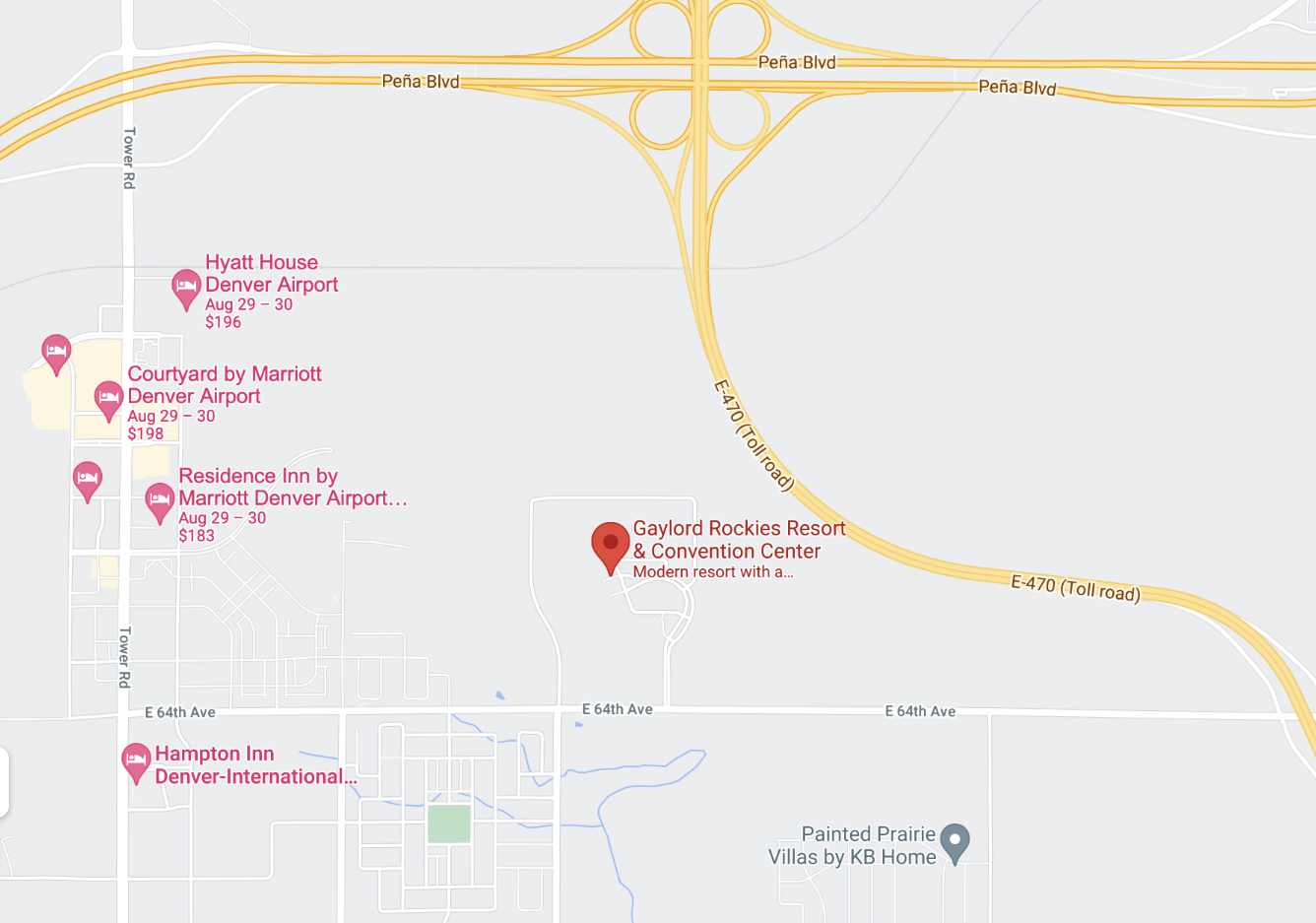 Looking for different Lodging? We recommend looking into the group of hotels on Tower Rd near Pena Blvd for availability.
Parking
Final pricing for parking at the Gaylord will be updated closer to the convention.  We reccomend that you use services such as Spot Hero if you are looking for discounted rates.
As of early 2023,  parking was:
Self-Parking
0-4 hours: $8
4-8 hours: $18
8+ hours: $29
Valet Parking
0-4 hours: $14
4-8 hours: $28
8+ hours: $39
Valet for Old Hickory Steakhouse & Relâche Spa – Up to 3 hours: $10
Public Transportation
The Gaylord offers a free shuttle between the hours of 6:00am-10:00pm from the RTD A-Line from the 61st and Pena Station! The shuttle holds 14 people, and leaves every half hour at 20 and 50 minutes after the hour. (Example: 1:20pm, 1:50pm during the 1o'clock hour.)
Dining Options
There are so many dining and food options at the Gaylord Rockies!  Check out the links to the right to see the hotel's offerings.

Food Trucks
In addition to the stand alone restaurants, the Gaylord hires a number of Food Trucks to help feed the NDK crowd at more accessible prices. 
Previous Year's Food Trucks:
Gyros King, Chile Con Quesadilla, Adobo, Radical Sasquatch, Seasoned Swine, Cazuelas De Fer, Ihawansa Sa Colorado, Kona Ice, Bandwagon Sandwiches

Dining at the Gaylord
Mountain Pass Sports Bar: (American), open for Lunch and Dinner, Casual
Old Hickory Steakhouse: (Steakhouse), open for Dinner, Smart Casual
Monte Jade: (Asian), open for Dinner, Casual
Vista Montagne: (Italian), open for Breakfast, Lunch and Dinner, Casual
Arapahoe Springs Bar and Grill: (American), open for Lunch and Dinner
Please visit this Gaylord Rockies Web Page for up to date details, and to make Reservations.
Snacks & Coffee at the Gaylord
The Cocoa Bean: Coffee shop located right at the entrance to the main Convention Area
Rockies Marketplace: Coffee, snacks and grab and go food options, located on the way to the main Convention Area
Dining near the Gaylord
With Tower Rd. located only a few minutes away from the Gaylord Rockies, there are many food options in the area to consider.