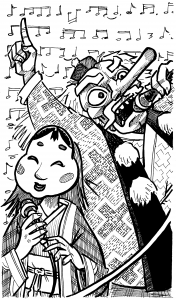 In addition to our big events, we have a large number of panels that cover a wide variety of topics related to anime fandom. Join your favorite guests as they discuss their craft, learn how to improve your costumes, discuss some of the deeper aspects of anime, hear about how the internet and piracy affect the anime industry, appreciate Japanese culture, and much more.
Some of our panels are run by our guests, some by our staff and volunteers. But the majority of panels are run by our attendees, so if you have an idea for a panel you'd like to run at NDK, please submit a proposal.
First, view the Panel Guidelines.

Next, Submit your panel idea!