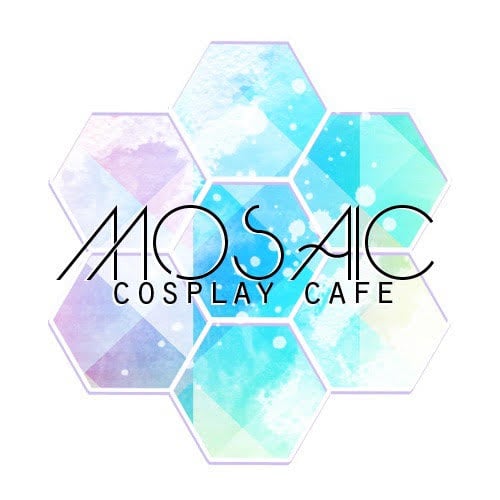 Mosaic Cosplay Cafe
Want to take a break, sit down and relax for a bit while enjoying some refreshments? Come join us in our Cosplay Cafe, where our featured players from Mosaic Cosplay will be performing for your enjoyment. Tickets for Cosplay Cafe are $10 each, available at the Panel Desk/Office. 
NDK 2023 Cosplay Cafe Lineup: 
Friday Showtimes- Sanrio Theme: 
7:00-8:00pm, 9:00-10:00pm
Saturday Showtimes – Jujutsu Kaisen Theme: 
12:00-1:00pm, 2:00-3:00pm, 5:00-6:00pm, 7:00-8:00pm
Sunday Showtimes – Sanrio Theme:
12:00-1:00pm, 2:00-3:00pm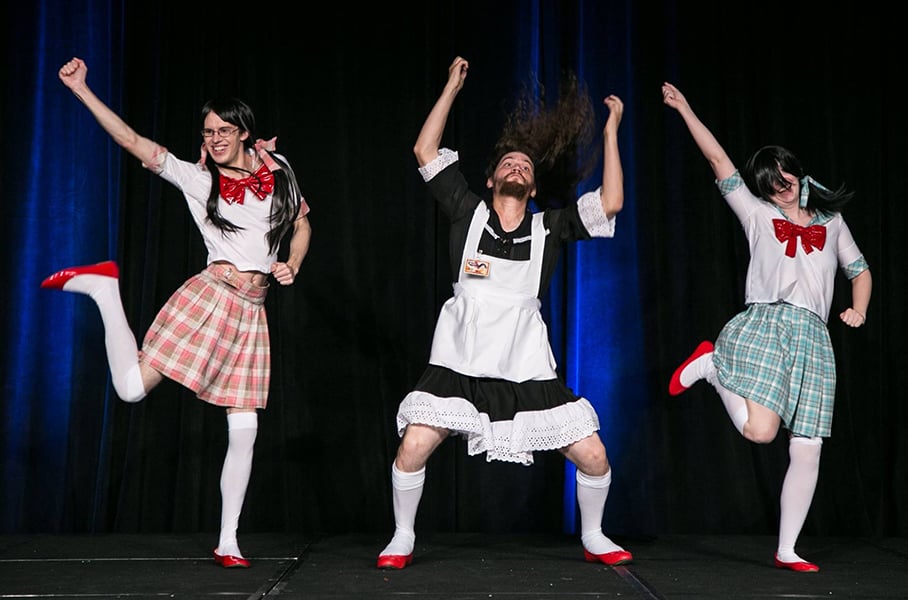 Cosplay Triage
Accidents happen, but don't let a wardrobe malfunction ruin a perfect good con! Need a costume repair? Head to our Cosplay Triage and consult our friendly staff to help fix your costume woes without having to go back to your hotel room. We have everything you need for basic costume repair, as well as a sewing machine available for use.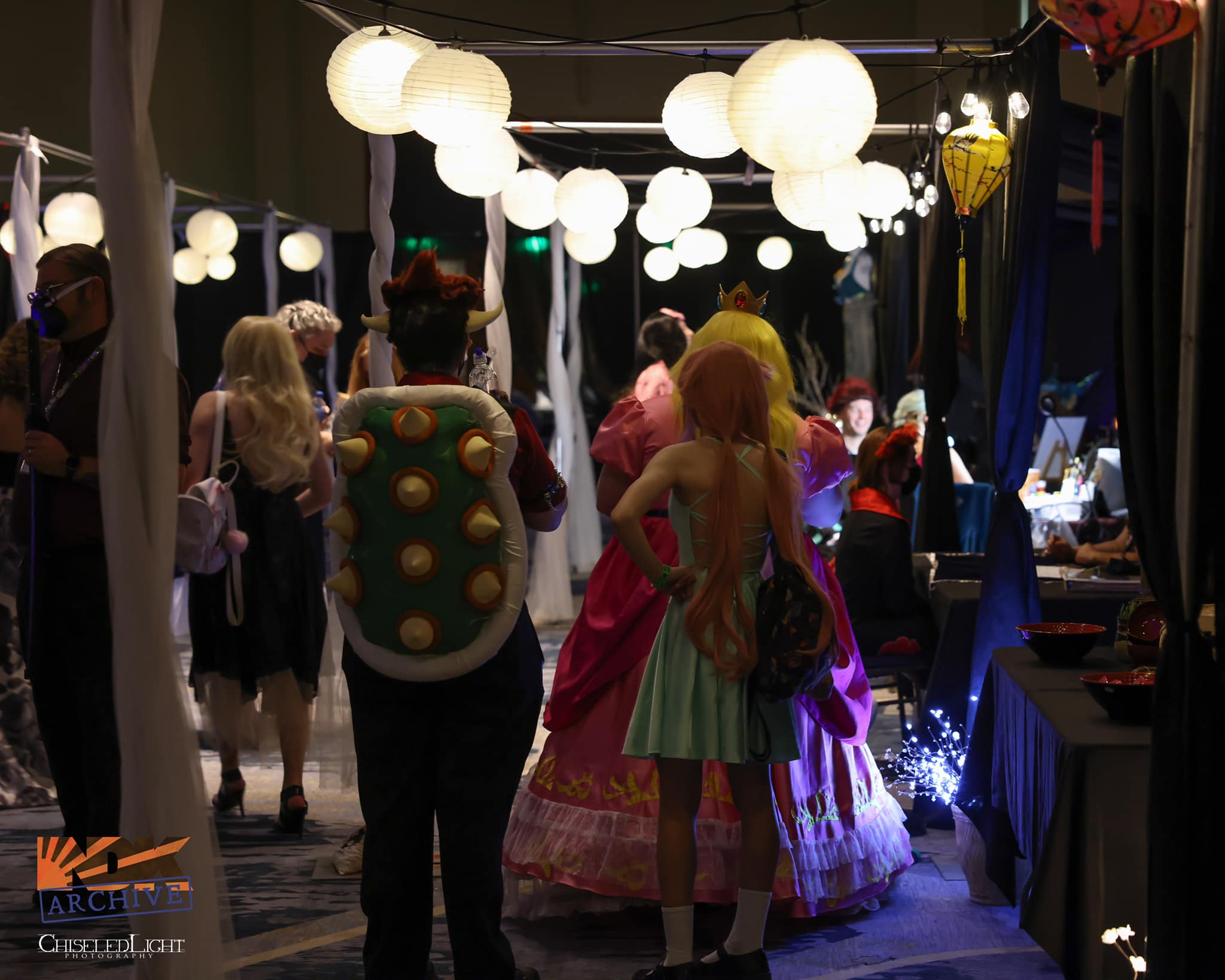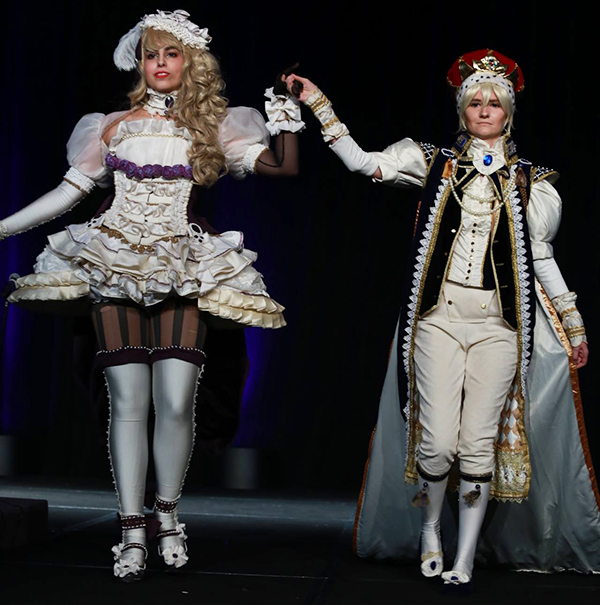 Nan Desu Kan Charity Ball
Night Market
Our NDK Charity Ball & Night Market will be held on Thursday night before the beginning of the convention. 100% of the proceeds benefit the Maria Droste Counseling Center.
What is the Night Market?
Every Thursday before the convention, we create the Night Market with fairy lights, lanterns, and booths filled with magical wares that you may only see during that time. Once you make your way through the Night Market, you may sit and enjoy the magical night scene, or keep going further past the market into the Charity Ball. Dance the night away under our magical sky knowing that this place is only here for one night at NDK. At sunrise, the market disappears until the next year.
What makes a costume and what's the dress code?
First and foremost, the general dress code guidelines of NDK are applicable here. For our purposes, costumes are very open to interpretation but for the entry fee, we will use the following. We are looking for three discernible elements; a headpiece, body piece, an accessory or specialty makeup, etc.
As some examples:
– A tiara, wings, and a wand to be a fairy
– A crown, cape, and a scepter to portray a royal
– Disney Bound as Moana with a long tropical-themed dress, a flower head crown, and an oar-shaped necklace or a plushy chicken friend
– Dress as an M&M by wearing a single color with a giant M on your torso
Please note that this is a dressier event, however, we are not going to be doing a dress code as we have done for our previous NYE balls with a skirt length or footwear requirement. However, all costumes must adhere to the regular NDK dress code guidelines. An old Halloween costume is also perfectly acceptable as long as it fits within the guidelines. Costumes are not a requirement to attend; If costumes are not your thing, that's ok! Just make sure that whatever you wear falls into the NDK Dress code.