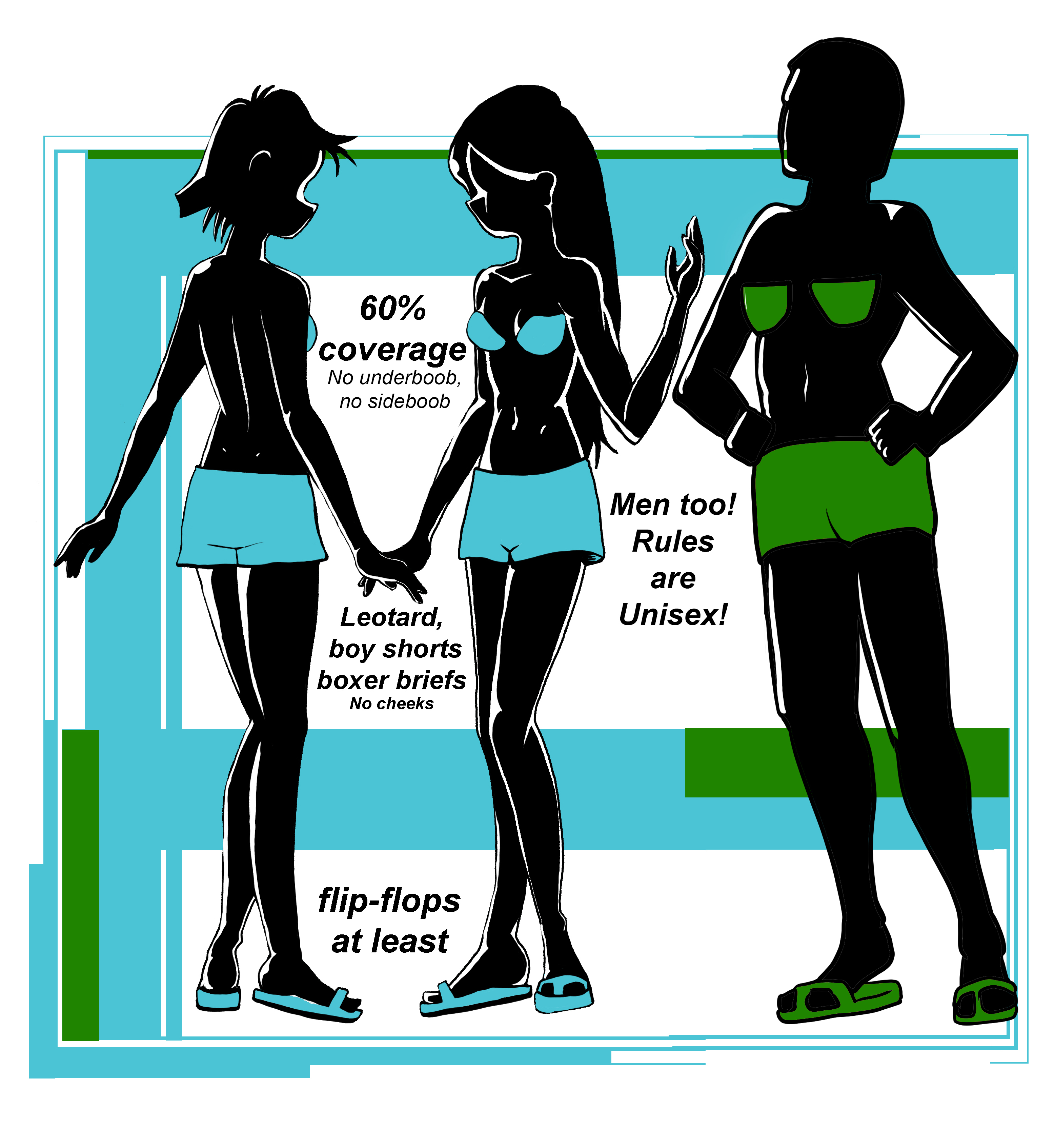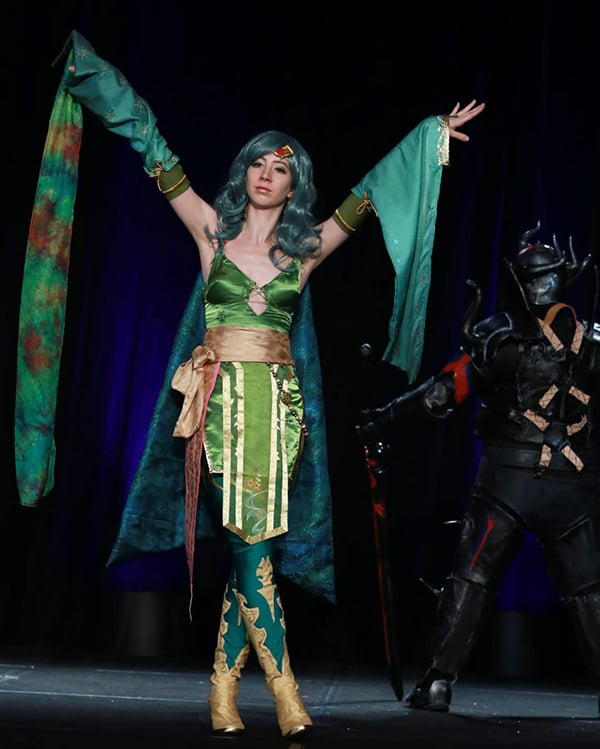 Cosplay Dress Code
For everyone's comfort and enjoyment, please adhere to the dress code (costume or no costume), or you will be asked to leave.  Final approval of all props, weapons and dress are up to the Ops staff.
No Shoes, No Shirt, No Service: This is the hotel's policy. Plus, it's safer for your feet.

Absolutely no realistic costumes of law enforcement, military or government personnel are allowed.

Upper Body Coverage: Everyone must have 60% of both sides of their chest covered, regardless of gender. The graphic on the right is a broad example of the requirements. The 60% coverage will vary depending on your personal chest size.

No underboob, and no sideboob will be allowed at all. If we look at you from the side and are able to see less than 60% chest coverage or inside your clothing, you need to put something else on. Additionally, if you're walking and your top covering flies open, you need to secure the opening over your chest (ie: no swinging Aladdin vests or capes which do not have 60% front upper body coverage).

Dramatically plunging necklines which reveal sideboob or underboob are not allowed. Please use a flesh-colored panel or double-sided garment tape to avoid dramatic necklines from popping open on all sides.

Bare abdomens and bare backs are allowed.

Dance Belts: All persons wearing tight fitting costumes are now required to wear a dance belt. We should not be able to see your anatomy.

Bottom Covering: The minimum for everyone is shorts or a skirt, which must completely cover your behind (no cheeks hanging out). If we can see what type of underwear you're wearing, you need to cover up. If we can see you have no underwear on, you need to cover up. Prefer a leotard? If it does not show any cheeks, it's fine. If you have to pull down your costume to maintain basic requirements, you're not wearing enough.

Mesh, Fishnet and See-Through Clothing: If you choose to wear see-through clothing, you must still wear the minimum requirement of opaque coverage underneath it. If we can see through your clothes to your body parts, you will be asked to change. No lingerie costumes are allowed.

Nudity, even the illusion of such, is strictly forbidden in both the halls and Costume Contest. You may wear flesh-toned and/or opaque clothing to cover areas, but do not alter the garment to make it anatomically correct.

Sexually explicit images on clothing is not allowed.

There will be no removing of articles of clothing for pictures or during the Costume Contest.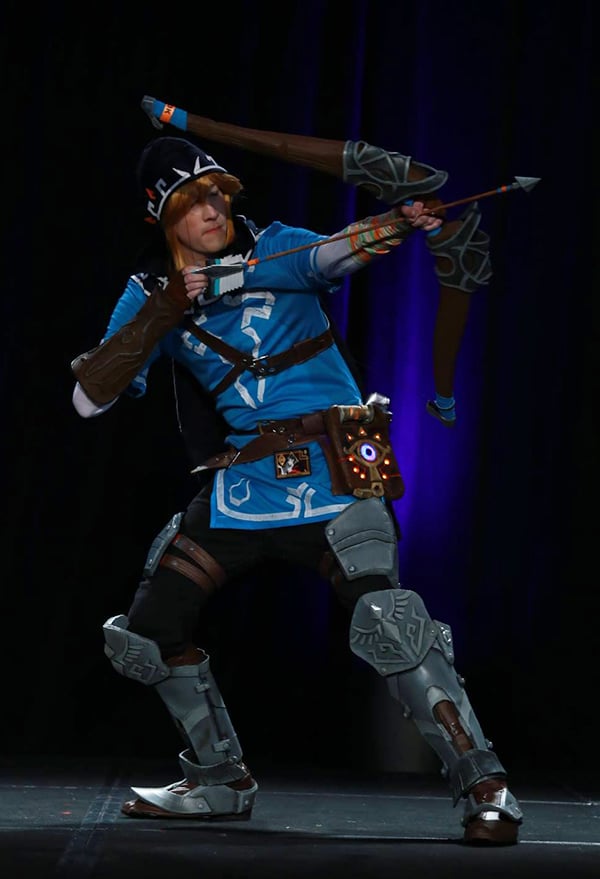 Props Rules
Please refer to the Weapons Policies for questions on all prop weapons.
You should not have any attached costume pieces which extend more than 1 foot from your body at your feet, arms or back. Remember that the halls are crowded- always use common sense when you have large or protruding costume pieces such as tails, hoop skirts or tall headgear or horns.

Wings should extend no more than 2 feet away from the body. If your wings are retractable, please keep them collapsed until you are outside of the hotel, or have plenty of space.

No signs are allowed at the convention under any circumstances, even if it relates to your character.

Metal handcuffs, leashes and chains over 6 inches long are strictly prohibited. There have been way too many incidents of someone being clotheslined or choked because of leashes.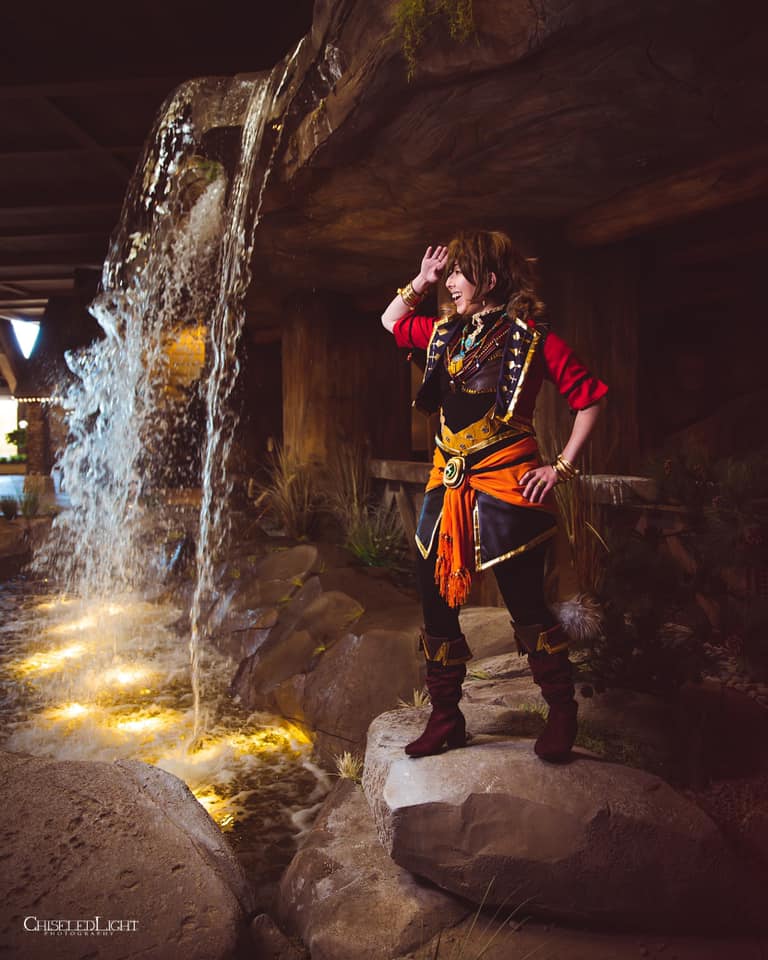 Gaylord Photography Policies
Photographers are allowed to take photos in the resort's public space using HAND-HELD equipment only. Equipment cannot extend greater than a 15 inch radius around or above the photographer or subject.Free-standing equipment is not permitted.

Photographers and/or equipment cannot block any public area or impede the safe traffic flow of others (entrances, exits, hallways, etc.).

Absolutely no set up of lighting with light stands, ladders, backdrops, large props/signs on the floor, running cords/wires across the floor, etc. will be allowed in public space areas.

The use of drones is not permitted.

Attendees and photographers are not permitted in the Back of House (back halls of the resort).

It is not permitted to take photos of STARS (resort employees) or other hotel guests NOT attending Nan Desu Kan.

Photography is not permitted in the pool area (Arapahoe Springs).

Photographers and their subjects (attendees in costume) must also respect the hotel environment by not being disruptive or doing anything unsafe, including but not limited to:

Standing on furniture

Climbing on any rock formations or railings

Climbing on the train caboose

Getting into any water feature in the Grand Lodge

Climbing on any bronze statues (horses at the front drive, elk in the grand lodge, etc)

Hanging items from a light pole or any other part of the building

All photographers MUST have valid Nan Desu Kan credentials (attendee badge).