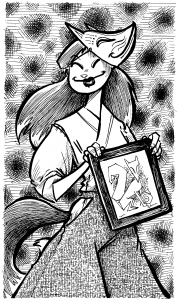 The Art Show is a place where all the artisans of NDK can bring their creations and offer them up to the con attendees. You will often find a mixture of items from paintings and sculptures to photographs and new age art. Bring your wallet and joy of art, and you too may be able to take a piece of fabulous art home with you.
The Art Show hours are as follows:
Friday: 3:00 PM to 9:00 PM
Saturday: 9:00 AM to 7:00 PM
Sunday: 8:00 AM to 10 AM
Art Show General Guidelines:
No photography or filming are allowed in the Art Show at any time.
Art Show bidding ends at 10:00 AM Sunday
Art with 3 or more bids automatically enters the live auction on Sunday
If you have the highest bid on a piece of art, you must pay for and pick it up by 3:30 P.M. on Sunday.  Art that is not paid for or left ehind will be returned to the artists.
Accepted payment types for the duration of the weekend are cash, check and credit card.