Our AMV Contest is very popular and it always fills our huge main events room to capacity, so be sure to get in line early so you can get a good seat! And in case you miss the first showing on Saturday afternoon, we'll replay the contest on Sunday morning. Be sure to check out the AMV Contest Award Ceremony later on Sunday where we'll replay the winning videos, and where the winning editors will receive their beautiful Asuka statues.
Contest Categories
Often imitated but never duplicated, our AMV Contest entries are divided into the following categories:
Category X — Best use of artist vision and complex style.
Action/Adventure — Best use of movement and pace.
Drama/Romance — Best use of emotion and feeling.
Comedy/Parody — Best use of well… just simply funny or amusing.
Upbeat/Dance — Best use of good feelings and tail feather shaking!
Anime Music Videos
Anime music videos (or AMVs) are the creations of passionate individuals with an interest in video editing and a love for music and anime. Our annual AMV Contest showcases the amazing skills of our community of editors, and it's quickly become one of the top AMV contests in the country!
Submit a Video
Submissions for our World Class AMV competition open in Summer of 2023!! You can submit your video using the form located at the bottom of this page. 
Prizes
The audience will vote by ballot for their favorite video in each category, along with their choice for Best of Show video. Best of Show awards will also be awarded by the AMV judging staff, and by the attending AMV editors. All of these winners will receive a coveted Asuka award. There will also be a special award presented for the best video using video game footage; this video can be awarded from any category.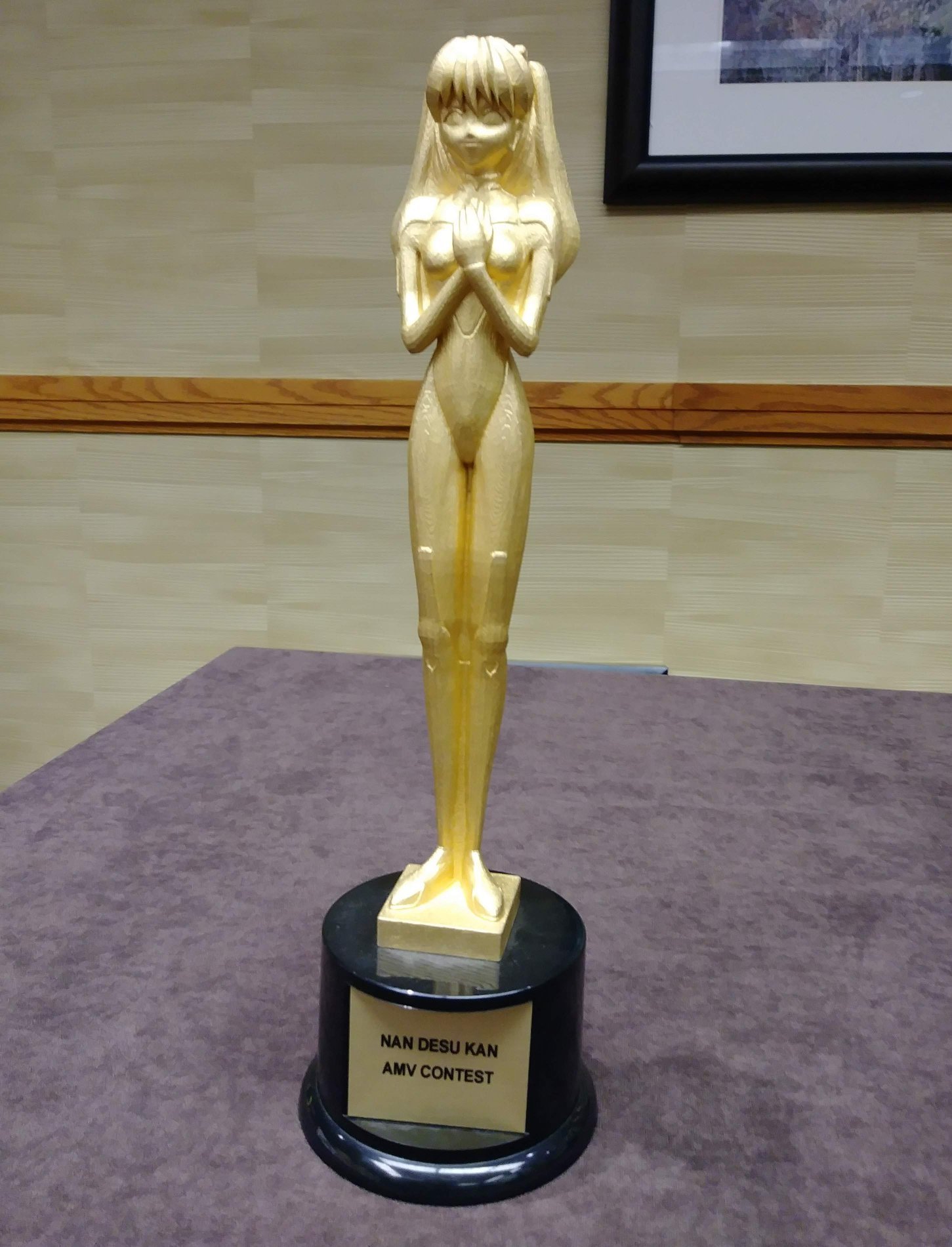 AMV Contest Rules
Please read through all of these rules before submitting your video. Submitting a video wil not guarantee a spot in our contest. We expect to have an overwhelming number of entries and there simply will not be enough time to show them all. We also recognize that some entry mistakes can be made, both on the editor's end and our own. If any mistakes are made, we have given ourselves enough time to be able to work with you to correct any such mistakes before the con begins.
This contest is open to everyone regardless of age, state, country, planet, etc. Although it is preferred for participants in the contest be in attendance at NDK, it is NOT a requirement for entry (but we'd love to see you there.) Please read and understand all the rules listed below. If there are any questions, please feel free to e-mail your questions to the AMV coordinator.
NO videos with only live action! We know how much you love Edward from Twilight and the way he sparkles, but a video all about him is not what we're looking for. HOWEVER, videos integrated with live action can be an exception, as long as the video is 70% anime. Need an example? Check out Tyler yj's Jihaku!
Video game videos are welcome! Feel free to make a video with any video game source, but Japanese IP source footage is preferred.
Original animation is welcome, but once again, keep it anime style. And when we say ANIMATION, we mean things moving. Please, no inageshack slideshows or stolen images from Deviant Art (it's not nice to steal!)
Multi-Editor Projects (MEPs) are welcome. Just make sure to keep it under the time limit.
Do NOT resubmit any videos that have been submitted to NDK AMVs contests previously. We like to keep the contest fresh, so if you've sent it before, please don't send it again.
All videos must have been made/finished after the previous year's convention.

You may submit up to 5 entries per person. All entries must have been finished or released by our submission deadline.

And of course…

If you didn't make the video… DON'T ENTER IT! If we catch you stealing someone else's video, then you can count on not being able to enter again. Here at NDK, we value our creators and the the time and effort they put into their videos.
Keep it PG-13! Explicit content is a no-no! Leave the hentai at home and bring the family fun.

Categories and Prizes
The Audience Favorite will be determined by ballot in each category, along with the Best of Show video. Best of Show awards will also be awarded by the AMV judging staff, and by the attending AMV editors. There will also be a special award presented for the best video using video game footage; this video can be awarded from any category. Asukas will be awarded in the following categories:
Category X
Best use of artist vision and complex style (and for those videos that don't really fit into any of our other categories).
Action/Adventure
Best use of movement and pace. These videos really get your heart pumping!
Drama/Romance
This is where you want to make us feel the lovey dovey! Or, you could try to make us grab the nearest box of tissues and cry our eyes out. It's up to you!
Comedy/Parody
So, you think you're a comedian? Well, we dare you to make us laugh!
Upbeat/Fun
This category is a mix of good feelings and tail feather shaking! A special place for videos that just make the day a little bit brighter.
Video Technical Requirements
Accepted Resolutions
The preferred resolutions for videos submitted to the contest are 1280×720 or 1920×1080. Other resolutions will be accepted, but please understand that lower resolutions may lead to unacceptable artifacts when projected on to a large screen.

Framerate

23.976 / 24 fps, 29.97 / 30 fps, or 59.97 / 60 fps

Audio

Uncompressed audio is preferable. 224 kbps or higher, avoid variable audio bit rates.

Video

Videos should be encoded with sufficient bitrate so as to not add any noticable artifacts. Space is not in shortage, so go big. Interlaced video is strongly discouraged as it typically looks poor on modern displays. Variable framerate encoding is strongly discouraged due to inconsistent playback among editors and players.

Accepted File Types

MP4 is far and away the preferred format these days. Older formats such as AVI and WMV are still accepted, but are discouraged.
Time Limit

Please no videos longer than 7 minutes!

Title Bumpers

Simple, they're NOT allowed! Title bumpers are defined as anything before or after the video itself that says what the video is, or who made it. We will be adding uniform title bumpers to each video shown in the contest. If you send your entry in with title bumpers, a clean version will be requested. We're not asking much with this rule, so please follow it.
WARNING: If your submission has macroblocking, logos, subtitles, interlacing, or is downright painful to look at, it can and most likely WILL be disqualified. We will be emailing entrants about any type of playback issues as soon as the video has been reviewed, in hopes of having it corrected for resubmission. We're not trying to be mean, but due to the large amount of videos we've had to disqualify due to quality issues, we have been given no choice but to implement this rule. And remember! We're willing to help! We want to see you get better, so don't hesitate to e-mail with your questions!
Submit a Video
AMV Submissions OPEN NOW until August 20th!!!

We ONLY accept entries via our submission form located further down this page. No more mail-in submissions! If you have any questions on how to use our upload page then please contact the AMV Coordinator.
All video submissions must be accompanied with appropriate video and editor contact information. Failure to provide full information can lead to disqualification of one or all of your videos. Please provide the following information.
Editor Name
Studio or Surname
Mailing address
E-mail address
Phone number
Also for each video provide the following information:
Title of the Video
Name of the music or audio artist
Title of the music or audio
Name of footage used (if over 3 sources it is ideal to list as various)
Name of category preferred to be entered in (Although please keep in mind that the AMV staff does reserve the right to move any video into any category they deem it is best suited for)
Pay close attention to the information you're entering, otherwise your video may end up on the big screen, complete with spelling errors and incorrect information!
Note: If submitting a multi-editor project (MEP) please list all the creators in the comment section of the entry form. Wouldn't want your friends to be left out!
File Naming Guidelines
In order to avoid having 30 different video entries named NarutoAMV.mp4, please try to keep your file names unique.
Example: NarutosTechniqueBeat_ByDecoy.mp4 is a great way to name your video!
Entry Checklist
Is it an AMV?
Video has NOT been entered into previous NDK contests?
Does your video meet the file/quality requirements?
Did you fill our your entry form?
Is the video named properly?
If you can say YES to all of those questions, then submit! We're looking forward to seeing your entries!
Questions or Comments? Don't hesitate to contact us!
---