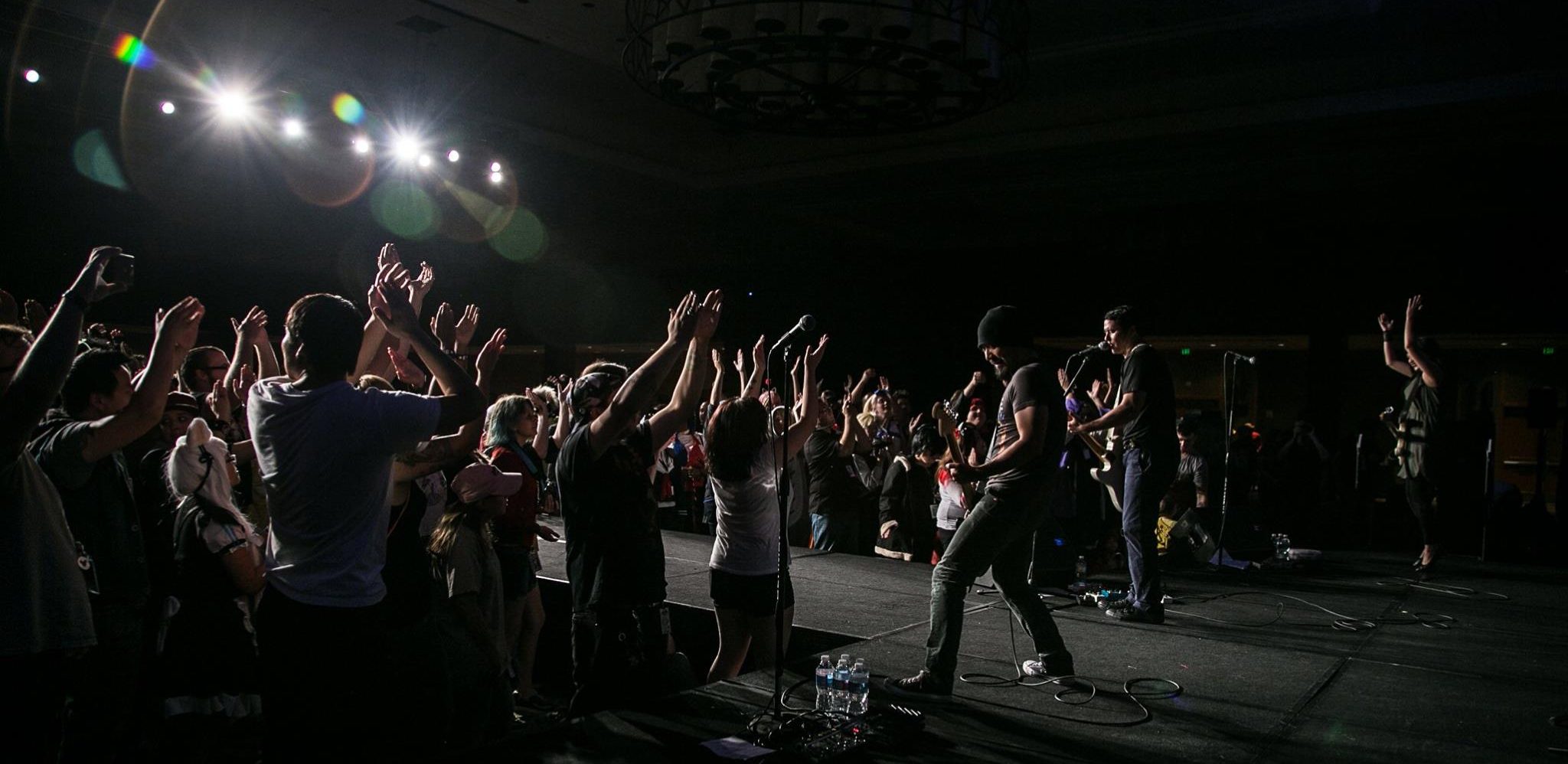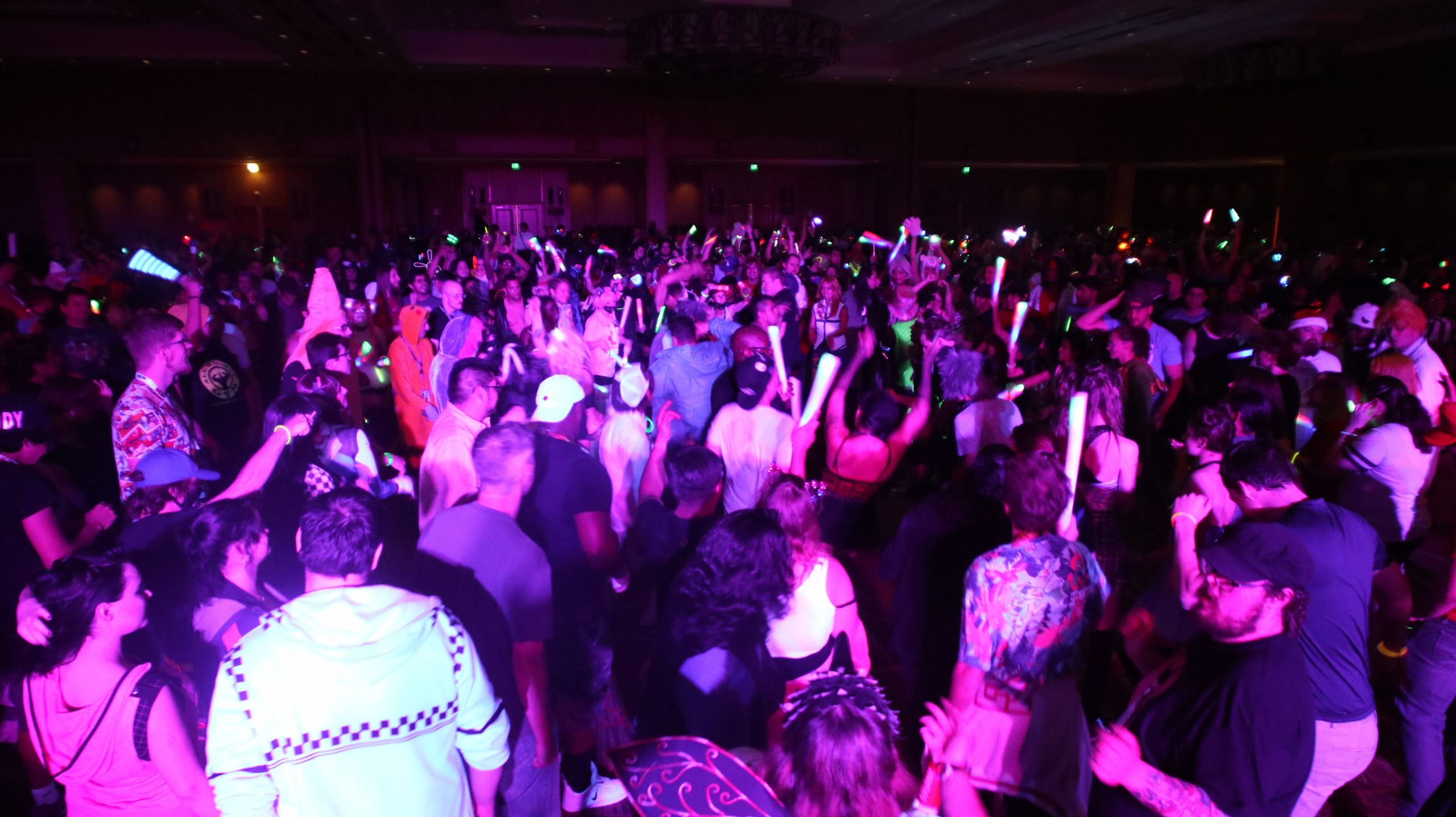 Anime Music Videos
Check out our AMV Page for details about our World Class AMV Contest, Rules, Submissions and more!
Burlesque Show (18+)
When the lights go down, some clothes come off, and characters come alive! Welcome back our friends from New Orleans, Royale Review burlesque troupe! Bringing to life characters from anime to fantasy to the big screen, this performance features dancers from all over South Louisiana. Be entranced by the more sensual side of some of your favorite characters.
Rules

Photo ID required for entry.
Keep in mind, burlesque is not stripping. It is sensual dance. There is no full nudity during these performances, however, some clothing will be removed.
Attendees cannot touch any of the performers at any time, even if asked to come on stage to participate in any games.
Due to COVID, cash tips cannot be accepted. Please watch for the codes to use to donate money digitally (i.e Venmo).  This also means food and drinks cannot be given to the performers.
Charity Auction History
Every year NDK hosts a Charity auction to help raise funds for selected organizations. Held every Sunday around 4pm just before Closing Ceremonies, come have fun bidding on rare and wonderful goods for a great cause. Check out the Charity Preview booth in the Dealers room to see allof the one of a kind pieces up for auction.
Due to the incredible generosity of our attendees, NDK has donated well over $250,000 to various charities to date:
Maria Droste, Stop AAPI Hate, The Blue Bench, The Love Planet Foundation, Extra Life / Children's Miracle Network of Hospitals, Canine Companions for Independence , Denver Dumb Friends League, Colorado FIRST, Stomp out Bullying, Aurora Victim Relief Fund & American Heart Association, Japanese Red Cross for Tohoku Earthquake & Tsunami Relief, We Heart Japan – Anime Industry Gives Back / Japan Center for International Exchange (JCIE) (Special Charity Event: NDK's Rave 2 Save Japan), United Way Gulf Recovery Fund for Hurricane Katrina Relief, The Japan America Society of Colorado (JASC), American Red Cross, Susan G. Komen Foundation, the American Diabetes Association and Child's Play.
Itasha Car Show
Nan Desu Kan is proud to host the Itasha Car Show sponsored by the Colorado Itasha Alliance!
A little about the Colorado Itasha Alliance:  We are a group of car enthusiasts in Colorado who love to deck out our cars in crazy designs. "Itasha" (or "痛車") literally means "Painful Car" and is a car wrapped with fictional characters from anime, manga, or video games. Yes, we understand the cringe-worthiness and yes, we thrive in it!
Want to bring your Itasha to display at NDK?
All confirmed participants will enjoy prime outdoor space dedicated to displaying your Itasha all Labor Day weekend long! NDK's Itasha Car show is sponsored by Colorado Itasha Alliance!
Car Show Details & Guidelines:
Itahsa need to be confirmed with NDK to appear. Contact the

Colorado Itahsa Alliance

via their Facebook page, or at

[email protected]

with a photo of your car 

18+ content cannot be on display in the open at NDK.

Participating Itahsa will be responsible for any

Gaylord parking fees.

Participation in the outdoor meetup does not include admission to NDK. If interested in going to NDK as well, please

visit our Registration page to purchase a badge.

Cars, Trucks and Motorcycles will be accepted.

Staging will begin Friday morning of the convention.

NDK attracts thousands of Attendees and Cosplayers daily. Be ready for questions and photoshoots with your vehicles! 

If you would like to book a room at the Gaylord, take advantage of

our booking link

to get the best available rate for the weekend.

Details may change as we finalize elements with our venue. Check back here for the latest. All upates will be posted here as they occur.
Participating Itasha must:
Have a hood wrap and/or side wrap on the car, not just decoration on the back window alone. 

Have a theme. Random assortments of stickers (even though those can be awesome!) are not what this meet up is seeking. (However- if stickers cover the majority of your car, we may make an exception. Submit a photo for consideration.) 

Be in driving condition.

Sign an agreement stating RMAA/NDK is not responsible for any damage to Itasha by participating in this meet up.

J-Pop Dance & Rave Guidelines
NDK hosts J-Pop and Masquerave dances for our attendees to let loose, relax and dance!
The J-Pop Dance is hosted by NDK's very own Onemadcow. It begins around 11 PM on Friday and runs till around 1 AM with a variety of selections of popular Japanese music.
NDK's Rave is a Saturday event beginning around 11 PM and going until at least 2 AM…and often much later than that! Powered by our very own DJ Staff and an assortment of guest DJs, the rave features a wide variety of dance music to keep you moving and shaking all night long.
For everyone to have a safe and fun time at NDK's dances, please keep the following in mind:
Modifications to the dances may be necessary depending on the COVID-19 environment by Labor Day. Please be understanding with any last minute changes.
You must have a valid NDK badge to attend either dance
You must display your badge at all times during the dance

No backpacks or purses

of any size will be allowed inside the dance
NDK staff will not be responsible for any bags or personal items left outside the dance door
No outside bottles of any kind will be allowed inside the dance.
No large costumes props or large wings will be allowed inside the dance
Rave Bag Check
Since bags, backpacks, and large personal items aren't allowed into the rave, you have two options to store them: You can either leave your belongings in your room or car, or you can utilize our bag check service for the evening. The bag check will be located at the NDK Registration desk adjacent to the Main Events doors, and open from 10:30 PM to 2 AM. The bag check has a fee of $1 per item, and all proceeds go to the charity for the year.
Video Rooms
At NDK, we strive to honor our roots and our earlier incarnations of an anime club. We have two video rooms running anime nearly non-stop from Friday afternoon to Sunday evening. We try to show a good mix of anime so everyone will find something they want to watch throughout the weekend. The video rooms also host a number of special events over the course of the convention.
To ensure that everyone has the best experience possible in the anime rooms, we have a few rules that we ask everyone to follow:
Be respectful. Please don't talk while the anime is playing. You might be the sharpest wit this side of Oscar Wilde but the other attendees want to listen to the anime, not your running commentary on what's playing.
No food or drink allowed. We use plenty of electronic equipment that doesn't mix well with crumbs or liquids. Please finish that ramune and pocky before coming in.
Don't stand in the doorway. If you want to see what's on, come into the room and pull up a chair, even if it's only for a minute. We won't yell at you if you don't decide to stay. Just please don't block other people from coming into or going out of the room.
No unattended children. If your child is young enough to need a babysitter, they're too young to be left alone in a video room. Please be responsible with your children.
No sleeping. The video rooms are not hotel room surrogates. If you're sleeping, we'll try to wake you up. If you don't wake up, we'll call security.
Lastly, we understand that not everyone likes subtitles and that some people can't stand dubs. We show both so everyone has something to enjoy during the con, but we can't switch from the scheduled dub to subtitles (or vice versa) just because someone asks. Sorry.