Keiko Han
Keiko Han is a veteran voice actress from Japan. She is best known for her roles in "Mobile Suit Gundam" as Lalah Sune and in "Sailor Moon" as Queen Beryl and Luna, the black guardian cat. You can also hear her voice in "Yamato yo Eien ni (Forever yamato)" as Sasha, and in "Pokemon" as Professor Ivy. In "Hunter x Hunter" she played Mito Freecss the mother-like role to the protagonist Gon Freecss, who was voiced by her actual daughter Megumi Han.  Additionally, she voiced the character Margaret White in the horror movie "Carrie" where Megumi was the voice of Carrie White. She is an established author who has published five books about the western horoscope.
Zach Aguilar
Zach Aguilar got his start in voice acting after winning Bang Zoom's competition in 2014. At 16 years old, he was one of the youngest people to ever win and has since been cast in numerous anime and video games. Zach has played characters such as Genos in One Punch Man, Sieg in Fate Apocrypha, Kunihiro Horikawa in Katsugeki Touken Ranbu, Colt in Hunter X Hunter, Nikaido in March Comes in Like a Lion, Slaine in Aldnoah.Zero, Talken in Sword Art Online 2, Arthur Pendragon in The Seven Deadly Sins, Takaki in Mobile Suit Gundam: Iron Blooded Orphans, and more. He can also be heard doing commercials for Pandora radio. While being a relatively new member to the world of voice over, Zach feels so blessed with the opportunities he's been given and is excited to continue doing what he loves.
To keep up to date with what Zach is working on, check out his website ZachAguilar.com and follow him on Twitter: @airzach
Clarine Harp
Clarine has been a mainstay in anime for over a decade, first featured in Kiddy Grade to give life to the character of Tweedledee in 2003. Since that first role, Clarine's acting talents have been highlighted through the voices of a broad range of popular characters: Hetalia as China/Taiwan, Burst Angel as Sei, Samurai 7 as Sanae, Speed Grapher as Ginza, Negima as Kaede, Shin chan as Miss Katz, Witchblade as Asagi, Trinity Blood as Mary, and RIN ~Daughters of Mnemosyne~ as Laura. Most recently, she appeared in Unbreakable Machine-Doll as Shoko.
Clarine can also be heard in Cat Planet Cuties, Corpse Princess/Shikabane Hime, Sekirei, The Sacred Blacksmith, El Cazador de la Bruja, Claymore, Jyu-Oh-Sei, Beck, Yu Yu Hakusho, Fullmetal Alchemist, Case Closed, Evangelion 1.0, D.Gray-man, Bamboo Blade, Aquarion, LASTEXILE – Fam, the Silver Wing-, Tower of Druaga, Ouran High School Host Club, Heaven's Lost Property, Jormugand, One Piece and many more.
Out of the booth, Clarine helps produce great anime in the United States through her job as Director of DVD, Blu-ray and Video Production for FUNimation. In her spare time you'll find her commanding a horde of rabbits and spreading the gospel of sock knitting far and wide. Fun fact: Clarine is also the inspiration behind the character of Aubrey in the popular webcomic, Something Positive.
Lex Lang
Lex Lang is 2X Daytime Entertainment Emmy® Awards honored Voice Actor and Director. He is one of the top 20 Anime, Animation and Video Game Voice Actors of All Time on IMDB. Over the last 20 years he has been in over five hundred Original Animation episodes, Anime series, and Video Games and has played a wide assortment of fan favorites throughout his career.
Animation Characters include: (top secret MASSIVE project to be announced before NDK!!),  Dr. Doom in the Avengers Earth's Mightiest Heroes cartoon series -Poe Dameron in LEGO Star Wars The Resistance Rises, – Batman on Batgirl Year One — Grimbor the Chainsman and R.J. Brande on Legion of Super Heroes – Clayface, Metallo, and Riddleman on The Batman — Atomic Skull on Justice League — The Doorman and his Dog Hundley on Curious George — Sozin the Fire Lord on Avatar: The Last Airbender – and many more!
Lex's current Anime credits include:  Sozin the Fire Lord in Avatar the Last Airbender — Goku in Dragonball Super (Asia release) – Hayate Gekko in Naruto — Marechiyo Omaeda in Bleach — Sanosuke Sagara in Rurouni Kenshin — – Goemon in Lupin the Third – Wargreymon in Digimon — Jagged Stone on Nickelodeon's Miraculous Lady Bug, Kuzuki in Fate Stay Night — Maxie in Pokemon Generations – Galen in Gundam Iron Blooded Orphans Season 2 (which he also directed!) – Pluton King of the Underworld and Flash in One Punch Man —   and many, many, more.
Video Game Characters: Dr. Neo Cortex in Crash Bandicoot N-Sane Trilogy (and all CB games),
Poe Dameron in STAR WARS Battlefront II, Stone Troll and Fire Troll in God of War,  Charr Male in Guild Wars 2,  Kiljeaden in World of Warcraft,  Dr. Doom in Marvel Heroes Video Game, Torvald in Evolve, The Grim Creeper in Skylanders,  Spyglass in Titanfall, and has voiced characters in STAR WARS (Han Solo/Poe Dameron), Crash Bandicoot (Dr. Neo Cortex), STAR TREK, Mass Effect 1, 2, and 3, Call of Duty: Advanced Warfare,  Batman Arkham Knight, and many, many more.
He is also the voice of Batman for Mattel Toys, and Lance Charming in Ever After High, for Mattel Animation. And he is one the the worlds most in-demand voice actors in the movie business as a voice match specialist and creature sounds specialist. He can be heard in many blockbuster films including Star Wars The Last Jedi,  Rogue One – A Star Wars Story — Justice League — Thor Ragnorok — Fantastic Four — Avengers Age of Ultron — Ironman 3 — Wolverine — Captain America Winter's Soldier — X-Men, Days of Future Past — Dawn of the Planet of the Apes  — Jurassic World,  Deadpool and X-men Apocalypse.  He can also be heard as creatures and demons on the TV shows, The Walking Dead, The Exorcist, Constantine, The Flash, and Legends of Tomorrow.
He was also the voices of Ecliptor in Power Rangers in Space, Rygog and Lerigot in Power Rangers Turbo, and Zen Aku in Power Rangers Wild Force.
Follow Lex on twitter @LexLang and on Facebook.
Lauren Landa
Within the world behind the mic, she is most known for roles such as the ninja beauty, Kasumi in Dead or Alive 5; the sexy Litchi Faye Ling in the popular fighting games BlazBlue: Calamity Trigger, as well as the sequels BlazBlue: Continuum Shift, and Continuum Shift Extend; Chrono Phantasma; the badass Kyoko Sakura in Puella Magi Madoka Magica; the enthusiastic Yan Leixia in Soul Calibur V; the deadly Little Queen in Tales of Graces; the valley girl racer in pink, Boiboi, in REDLINE; the adorable zombie Squigly in Skullgirls; kind hearted Leia in Tales of Xillia; the innocent Chubo Sonken in Ikki Tousen: Great Guardians, the quiet Annie Leonhardt in the hit anime series Attack on Titan, One in "DrakenGard 3", Nora in "Noragami",  Sailor Neptune in the VIZ Media's Sailor Moon, Merlin in "The Seven Deadly Sins" and many more!
Chris Patton
Chris Patton has been voice acting in Anime, Video Games, Audio Books, and elsewhere for the past nineteen years. Some of his more notable roles include Greed in Fullmetal Alchemist, Ayato in Diabolik Lovers (Original and More Blood), Oikawa in Haikyuu!, Sousuke Sagara in in Full Metal Panic, including the long-awaited Season Four: Invisible Victory, Asura in Soul Eater, Kliff in Fire Emblem Echoes, Turles in the entire Dragonball Z universe,  and Hajime in the now-infamous dub of Ghost Stories! Some of his favorite roles include Eiji in Sword Art Online: Ordinal Scale, Sasame in Pretear, Ayato Kamina in RahXephon, Rei Otahata in Super Gals, Graham Spector in Baccano, and Fakir in Princess Tutu. In the realm of Audio Book narration, Chris is a multi-Audie Nominee, and winner of the Golden Earphones Award, and his long list of narrated titles includes the Disney novelizations of Tron: Legacy and Guardians of the Galaxy.
Theatrically, Chris has switched gears in the past few years more towards directing, and has recently directed award-winning productions of Green Day's American Idiot, Silence! The Musical, an originally-adapted rock opera of The Moody Blues Days of Future Passed, and two runs of Hedwig and the Angry Inch. This is something like his umpteenth-million NDK appearance, having missed last year to attend San Japan, and he's thrilled to be back!
Patrick Seitz
Welcome back to Patrick Seitz, our beloved El Patricko Magnifico!!! He and the infamous Sombero will be making a triumphant return to NDK 2018! (Actual Bio coming soon…)

Megumi Han
Megumi Han is one of the top young actresses and lead voice actresses in Japan. She has played many protagonist roles such as, Gon Freecss in "Hunter x Hunter", Rinko Yamato in "My Love Story!!", "Little Witch Academia" as Atsuko "Akko" Kagari and Keita Amano in "Gamers".  You can also hear her voice in:, "Chihayafuru" as Sumire Hanano, "Happiness Charge Pre Cure" as Hime Shirayuki/Cure Princess, "Steins:Gate 0" as Shiina Kagari, "Ushio to Tora" as Kirio, "Yowamushi Pedal" as Aya Tachibana, and "Terror in Resonance" as Five and many many many more. She has also been a radio personality, released character songs, and provided voices for numerous games.
Sandy Fox
Sandy Fox is an American Actor, Voice Actor, Singer and Producer. She is listed as one of the Top 20 Female Anime Voice Actors of All Time on IMDB and known for being one of the cutest voices in Hollywood!
She began her career in the entertainment industry working for the Walt Disney Company performing in hundreds of live stage shows as a singer, dancer and comedic talent in their Orlando theme park. Her first introduction into Voice Acting was providing an array of additional voices for The Simpsons, and later on King of the Hill, The Critic, Futurama, Muppet Movies and Disney's Wreck it Ralph and Maleficent.Sandy's Anime, Animation and Video Game career has spanned over 28 years voicing Kyoko in AKIRA, Tachikomas in Ghost in the Shell and Ghost in the Shell Innocence the Game, Mina and Momiji in Naruto, Sumomo in Chobits, Ritz in Bleach, Courtney in Pokemon Generations, Mistral and Mirielle in .HACK, Karas -Amefuriko, Paiway in Vandread, Haruna in DurararaX2, Harmony in Hi Hi Puffy AmiYumi, Owly the Owl in the new Power Puff Girls, T-AI in Fox's Transformers: Robots in Disguise, Minette Napkatti in Bravely Second, Meiu in Tales of the Abyss, Peashy and YellowHeart in Hyperdimension Neptunia, Flonne in Disgaea, Melody in My Life as a Teenage Robot, Cylindria in Pacman's Ghostly Adventures, Mipsy Mipson in Nickelodeon's As Told by Ginger, Lynne in Fist of the North Star, Risky in Risky-Safety, Himaspetchi in Tamagotchi Friends, also voicing Mattel's Fijit Newbies and Daisy in Disney's Princess Palace Pets.
Some of her more current roles include Chibiusa and Black Lady in Sailor Moon and Sailor Moon Crystal, Vyrn in the new GranBlue Fantasy series, HARO in Gundham Seed and Aisha in Elsword. Sandy lent her vocals and writing talents for the English theme songs for Rurouni Kenshin and Magic Knight Rayearth series.
She is known internationally for voicing the Queen of Cartoons – Betty Boop. She has voiced Betty for Universal Studios and King Features and can be heard as Betty Boop and Pudgy in the new line of singing plush toys from Chantilly Lane, the Universal Studios Islands of Adventure Theme Park in Orlando Florida, Lancome Paris' and Zac Posen's online global commercial campaigns and most recently Betty's appearance on Project Runway All-Stars.
Sandy is certified in Yoga, Meditation and Ayurveda from world renown Chopra Center in Carlsbad California. She is the co-founder of H2Om Water with Intention, Love Planet Productions and The Love Planet Foundation a 501c3 non profit that creates social and environmental education and awareness.
Visit sandyfox.com and @sandyfoxworld on twitter and facebook
https://www.imdb.com/name/nm0199809/?ref_=nmbio_bio_nm
Also see Sandy on the new Anime app UNlocked
Samantha Inoue-harte
Samantha Inoue-harte is an established and varied entertainment industry veteran.  She is currently wearing multiple hats consulting for an untitled Hollywood Anime live action adaptation feature, she began consulting for the entertainment arm of an international multimillion dollar foundation, she will be seen this Summer 2018 in James Cameron/Robert Rodriguez live action adaptation of the anime/manga Battle Angel Alita, and she is also producing two animated features: Tailchaser's Song, based on Tad Williams' novel, and an untitled animated feature as well as 2 anime series currently in production in Japan.
Samantha is also an accomplished entertainment veteran as a voice actress in over 43 Japanese anime (approximately 500 individual episodes on last count) and videogame titles since 1998.  Samantha's most known roles are in KingsIsle Entertainment's Wizard 101 and Pirate 101 and in Daybreak Game' DC Comics' DC Universe Online as DC Comics' The Mighty Isis and Lust, Sakura Wars as Kohran Ri, Magical Play as Pipin, Final Fantasy Unlimited as the Chocobo and Cactar.  Her other titles include: Ascension the Videogame, Birth, Blade of the Phantom Master, Bratz, City Hunter the motion picture, Cosplay Complex, Dai Guard, Daphne in the Brilliant Blue, DearS, Devil Lady, Dungeons & Dragons Online, Eden's Bowy, Gatchaman, Getbackers, Getter Robo, Gun Crazy, Happy Lesson, Jing: King of Bandits, Legend of Crystania the motion picture, Lost Universe, Mazinkaiser, Moeyo Ken, Nadia the Secret of Blue Water, Negima!, New Fist of the Northstar, Ninja Resrrection, Petite Princess Yucie, Princess Blade, Pumpkin Scissors, Queen Emeraldas, Sakura Diaries, Samurai X the OVAs, Samurai X the Motion Picture, Shuten Doji the Star Hand Kid, Soul Hunter, Steam Detectives, Tekken the Motion Picture, Trinity Blood, Wedding Peach, World of Warcraft, and Zone of the Enders.
When not working in film, Samantha is often cooking, cowboy action shooting, and playing Dungeons & Dragons or table top games.
Cherami Leigh
Cherami  Leigh has been in the industry for 20 years. She has been in over 75 commercials, and has worked on over 100 anime projects including "Lucy" in Fairy Tail, "Asuna" in Sword Art Online, "Road" in D. Grayman, "Lizzie" in Black Butler, "Mai" in Ghost Hunt, and "Patty" in Soul Eater and has worked on over 20 video games- including playing DLC "Gaige" in Borderlands 2, Quartermaster "Corporal Green" in Call of Duty: WW2, and "Ikrie" in Horizon Zero Dawn's DLC. She voices "Sailor Venus" in Sailor Moon,"Tomie" in Mob Psycho 100,  "Kudelia" in Gundam: Iron Blooded Orphans, "Claudia Peer" in Gundam: Thunderbolt, "Ilia" in RWBY, "A2" in Nier Automata and "Makoto" in the Persona 5. And was recently announced to be playing "Sarada" in Boruto: Naruto The Movie and multiple characters in Fire Emblem: Heroes, as well as playing "Cagalli" in the new release of Gundam SEED and "Tomie Katana" in French series Last Man.  She has a lead role in the animated feature "Ribbit," has guest starred on "Doc McStuffins" and plays "Peanut Big Top" in the La La Loopsy Girls.
She starred in Shane Dawson's "Not Cool" and the Starz Original Series "The Chair." She has appeared in the Emmy Award Winning "Temple Grandin", as well as "Friday Night Lights," "The Deep End," "Chase," "Shameless," "Bones," "NCIS:LA"  and "Longmire" to name a few. She worked on "Fast Food Nation," with Richard Linklater, "The Hottest State," with Ethan Hawke, "The Mist," with Frank Darabont among others. She also stars in the recently released faith based drama "Beyond the Farthest Star."She also starred in and produced two seasons of the award winning webseries "Throwing Stones," as well as "CONfessionals." She also has a daily affirmation based show "Love and Light" featured on Anime Unlocked along with other projects in various stages of production she is excited to share!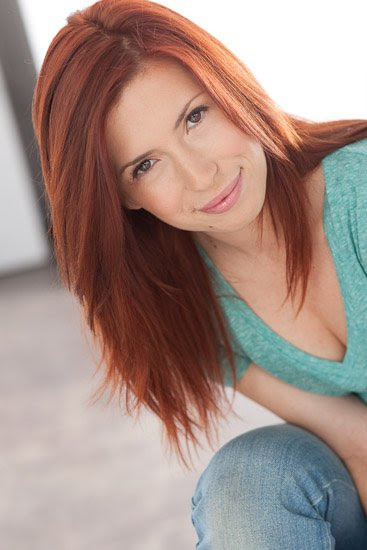 Elizabeth Maxwell
ELIZABETH MAXWELL is an accomplished actress, award-winning voice over artist, and life-long lover of all things geek.
She made her debut in the dubbing world on the runaway hit anime series Attack on Titan (Ymir) and soon after took on the most recent incarnation of The Major in Ghost in the Shell: Arise (Motoko Kusanagi).  Other popular anime titles include My Hero Academia (Midnight), Noragami (Bishamon), Fairy Tail (Jenny Realight), Soul Eater Not! (Shaula Gorgon), Black Butler: Book of the Atlantic (Frances Midford), Overlord (Albedo), and Code Geass: Akito the Exiled (Ayano Kosaka).
Elizabeth has also lent her voice to a number of Rooster Teeth's most popular 2D shows, such as RWBY (Winter Schnee), Camp Camp (Nikki), Nomad of Nowhere (Skout), and Red vs. Blue (Agent Ohio).  Other original animation titles include YouTubeRed's Kings of Atlantis (Anemone/Lennox), and LeSean Thomas's Cannon Busters (Casey Turnbuckle/Tiephoyd).
She has also worked extensively in games, most recently in Nintendo's highly lauded The Legend of Zelda: Breath of the Wild (Urbosa/Riju).  Other titles include Atlus's Persona 5 (Sae Niijima), Square Enix's The Secret of Mana (Scorpion Boss), Bandai Namco's Tales of Berseria (Grimoire), Warner Bros.'s LEGO Marvel's Avengers (Jane Foster/Thor), Gearbox's Battleborn (Phoebe), and Capcom's Street Fighter V (Juli).
You can find Elizabeth's voice AND face on such TV shows as Criminal Minds, From Dusk Till Dawn: The Series, and Lost Tapes, and in the big screen psychological thriller A Perfect Getaway.  She is also a regular fixture in the indie genre film world, with starring roles in such films as Virgin Cheerleaders in Chains, Hollow Scream, Little Woods, A Place of Madness, Tip Your Waitress, and Focus Puller.  She recently guest starred alongside Vic Mignona on the critically acclaimed, award-winning web series Star Trek Continues.
When she's not behind a camera or mic, Elizabeth enjoys super hero training (aka kickboxing and stunt fighting), watching John Carpenter and Miyazaki movies, reading fantasy novels, playing RRGs, and planning for the zombie apocalypse.
More info at www.aboutelizabethmaxwell.com, and stay in touch on Twitter (@AboutElizabethM) or Instagram (@elizabethmaxwell).
Heather Martin
Heather (aka. HeatherAfter Cosplay) is an artist, model and longtime cosplayer.  A part of the convention scene since 1996, her passion for cosplay and all things pop culture led Heather to quickly become a Master level cosplayer.  She has been honored to be a cosplay judge and/or guest at conventions throughout the country, as well as represent various businesses as a cosplay model and spokesmodel.  Currently Heather has over 150 cosplays under her belt. She is largely self taught in all aspects of the hobby, and firmly believes that anyone can cosplay. Heather loves learning new techniques, passing along crafting tips and tricks, and sharing her passion for cosplaying in general.  If that sounds like your idea of fun then be sure to keep an eye out for Heather's panels, and check out her 'HeatherAfter Cosplay' Facebook page for new cosplay-related tips every Tuesday, along with daily updates throughout the week:  http://www.facebook.com/HeatherCosplay
Rabbit
Rabbit began cosplaying back in 2002 when her (now) husband invited her to NDK and told her that "cosplay is optional." Cosplay is no longer optional, but an integral part of their life together. Rabbit has a few cosplay awards under her belt, assisted several smaller cons with their cosplay competitions, runs several cosplay panels, creates online tutorials, and teaches other cosplayers the basics of cosplay. When given the chance, Rabbit will happy flip any hems and admire any and all small details in a costume.
Queen D
Make way for Queen D! The self-proclaimed southern queen of crossplay!  (What a mouthful!) You may recognize her from her wildly unsuccessful YouTube show the Dlist!
Queen D is a fourteen-year seasoned cosplay veteran, emcee, and burlesque performer! Known for her wild antics and insane style of hosting shows, causing general chaos, and eating chicken nuggets! A known makeup artist, she has traveled all over the country blessing peasants…Uh…attendees with her shenanigans. She will be hosting a variety of panels throughout the NDK weekend, teaching general cosplay knowledge, stage presence, posing, and makeup! Known as the queen of late night at conventions, she is infamous for her 18+ panels so be sure to attend if you are of age!  Queen D is so thrilled to be back in the city with no air and once again a guest at NDK!
Queen D, along with Royale Revue Burlesque Troupe, will be performing in Friday and Saturday night's Burlesque performances!
Teca
Teca is an award-winning cosplayer who has been cosplaying for nearly fifteen years. She has won over twenty craftsmanship and presentation awards and judged more than a dozen competitions across the country. She's worked at official industry events as Sailor Jupiter from Sailor Moon and Sailor Moon Crystal for VizMedia, America from Hetalia for FUNimation, Kyouko Sakura from Puella Magi Madoka Magica for Aniplex, Marida Cruz from Gundam Unicorn for Bandai as well as  worked with bands such as Kalafina and CHEMISTRY. She has attended several cosplay events in Japan, including Comic Market (Comiket) and Osaka's Comic Event.
Wingedlight Cosplay
Wingedlight Cosplay is a Master level competitor and craftsperson who has been cosplaying since 2008 (this year will be her 10th NDK). Specializing in embellishment and elaborate textile work, she has participated in costume competitions on 3 continents. She has won Best in Show at Japan Expo – Paris and Anime Los Angeles, and received a variety of other awards from conventions across the US. Wingedlight represented the USA in the World Cosplay Summit Karaoke Grand Prix in 2014, and has also been featured with an Arda Wigs Costume Sponsorship. In addition to competing and creating, Wingedlight has hosted cosplay and Japanese culture panels, worked as a cosplay promoter for Pony Canyon, and worked as personal translator and handler for cosplay guests Reika and Kaname. She earned a BA in Japanese Language and History.