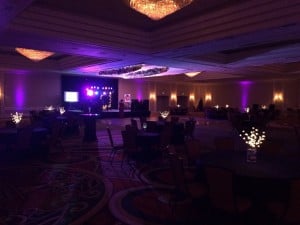 Ready to say good-bye to 2017 and welcome 2018 in style? Join NDK on Dec. 31, 2017 as we count down to the Year of the Dog with costumes, photos by CG Photography, dancing, music by NDK Director DJ Jeremy, food, cash bar, games, Royalty, and friends!
The fun starts at 7 p.m., Dec. 31, 2017, and programming ends around 2 a.m. on New Year's Day, Jan. 1, 2018. (After the countdown ends, it's up to DJ Jeremy to decide how long to keep the party going!)
We'll be closing the registration desk at 10:00 p.m., after which time only pre-registered attendees will be allowed in.
NDK NYE is one of the few, if not only, New Year's events in the Denver Metro area to welcome all ages. We want to make sure everyone has a great time, so please review our policies prior to NYE.
Registration
Online pre-registration will open after NDK and go to Dec. 30. Register on-site for $20, cash and credit cards accepted.
Hours of Operation
6:00 Registration opens
6:30 Professional photos from CG Photography opens, Charity Games begin, Silent Auction opens
7:00 Charity Casino/Pachinko Parlor opens. Royalty Contest check-in opens.
8:00 Ballroom Doors Open, music and dancing begins!
9:00 Royalty Contest check-in closes
10:00 Royal Court Parade, Royalty Winners announced in ballroom, Registration Closes
11:00 Casino/Pachinko Closes, Photo area Closes
11:54 The Final Countdown!
Hotel Info
NDK NYE is at the Renaissance Denver Hotel. We don't share the hotel with anyone!
Parking is free, even for overnight. A coat check and prop check will be available.
To make reservations for NDK NYE, please call 1-800-468-3571 and say you are with "NDK NYE" or "Nan Desu Kan" to get the room rate. If you don't say that, you won't get our rate! The hotel rate is $100 for up to four people. You must reserve your room by Dec. 1, 2017 to get that price.
Dress Code
There is a DRESS CODE for this event. By registering online or at the door, you are agreeing to follow the dress code guidelines. If you are denied admittance into the dance for not meeting dress code, your registration fee will be refunded, however, NDK will not reimburse any additional costs you may have incurred to attend this event.
Dress Code guidelines and suggestions are available at-length on the site. You are also encouraged to ask the staff for further assistance prior to NYE