Make sure to stop by Artists Alley, we have some amazing artists and craftsmen this year. We'll be directing the traffic again and (unless you have an official press badge or you are an artist taking a reference shot) photography within AA is not permitted. The artist contest is also back and better than ever. Details of the contest can be found here. Make sure to vote! Winners will be returning in 2020.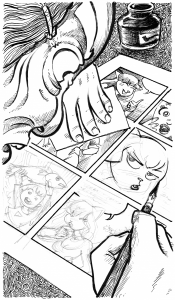 Hours for Artists Alley are:
Friday: Noon to 10 PM
Saturday: 9AM to 10 PM
Sunday: 9AM to 5 PM
The official NDK Artist Alley Facebook page is here:
https://www.facebook.com/pages/Nan-Desu-Kan-Artists-Alley/844283105618556
Meet the artists
Staff
Alice & the 3 Dark Kings
MadMouseMedia
Monroe's Art Room
Wings, Charms, & Things
Guests
Consulate-General of Japan in Denver
Denver Print Company
Inoli & Kimu
Inside Japan Tours
John Peters
Kat Lowry Art
Kirei Cosplay
Kumoricon
MartinArt Studio
Pannon
Queen D
Royal Revue
Stephanie Kao
Art
Art Berries
Caitlin Ono
Colts Art
Dark Grey Clouds
DragonLady Art Studio
Fantasm
ForestDoodleos
Hailcakes
Hexselenas
HideawayMelon
Hikazio
Jaskin Art
jdelgado!
Kaneblob
Kawaiilo Ren
KittyKatParades
KomunHorangi
Kyomon
Larkdraws
LucidSky
Maecaart
Marcotte Studios
MousuArt
NayukiDraws
ofSkySociety
Penelopeloveprints
PillowDS
puppySHAKER!
Rainy Panda
Ranelynn Graphics LLC
Reddverse
Rio Burton Illustration
Sariochan Arts
Savvy Jensen Art
Shoozki Art
squibblefu
Studio TipTop
Tsuchronicl
Wavechan (Wave)
Wayward Studios
Xeph (Xeph's Artworks)
Yanimator Art
Yen Pen
Zeiva
Zzyzzyy
Craft
Bee-Ribboned
Bitten Designs
Bunniikittylivestreams
Carmendee Dragons
Charming Little Fox Creations
Collect2display
Grandma Thunderpants
Miss Victoria Regina
Nellie's Attic
Rabbit Tales
Sabbie
Savage Embroidery
Mixed
DinosaurMermaid
HITSU
Junosama
Lemon Penguin
Lilycli
Minky's Crafts
Mint Tea Menagerie
minteaparty
Moorina