Panels @ NDK
Did you know that the majority of NDK's panels are created by our attendees? It's true!
While NDK has panels from our invited Guests and Industry folks, most of the content in our panel rooms comes from the folks that attend NDK every year!
Guest Panels can include traditional Q&A sessions, Voice Actors  talking about upcoming series, or sneak peaks from our friends at the production studios.  But! We at NDK like to know what our guests are really excited to talk about. So you will see offerings from our guests that may include their personal passions as well!
Attendee Panels have touched on many topics related to anime fandom over the years. Some of our past topics have included: tutorials about how to improve your costumes, roundtables about your favorite series of anime, panels for the LGBTQ+ community, panels on how internet and piracy affect the anime industry, exploring parts of Japanese culture, swap meets, sing along's, and much more.
Do you have an awesome idea for a panel?
Great! We would love to hear from you.
First
View the Panel Guidelines below.
Then
Submit your panel idea using the Form below the Panel Guidelines!
Panel Signup Process
Interested in running a panel at NDK?  Please see the Panel Guidelines section below, followed by the Panel Signup Page.
Panel Guidelines
Table of Contents
Thank you for your interest in running a panel at Nan Desu Kan. Here we've compiled all the information you'll need to know about submitting a panel idea as well as some guidelines you'll need to follow if your panel is accepted. Please read these guidelines carefully.
For the sake of brevity, our use of the term "panel" includes all activities run by attendees. These guidelines apply to all panels and all attendee-run activities.
Panels
Submission Process
All panel submissions must be made via the appropriate forms on the Nan Desu Kan website. Submissions sent through other channels will not be considered.
Content Restrictions
All panels must be relevant to Nan Desu Kan. That means they must be related to one or more of the following areas of interest: Japanese music and culture, anime/animation, manga/comics, video games, AMVs, cosplay, art, or crafts.
NDK is a family-friendly convention. All panels scheduled between 8:00 AM and 9:00 PM must be suitable for attendees of all ages. Language and other content should be "PG" or better.
Discussion of hentai and sexually explicit content is permitted, but only during panels designated "18+" and scheduled after 9:00 PM. The display of hentai and other sexually explicit content is not permitted at any time. Panelists must let us know in both the first and second round of submissions if their panel is intended for adults only.
NDK has a strict no-bootleg policy. We don't permit the display or use of bootlegs in panels except to educate attendees about how to identify and avoid buying bootlegs. This includes fansubs, scanlations, and emulators.
Panelists may not promote illegal activities such as drug use, underage drinking, or the violation of international copyright law. Discussion of such topics is permitted only so far as they pertain to educting attendees about the perils of such activities and what impact such activities might have on culture, business, or fandom.
Panelists may not discuss politics or religion except to analyze their impacts on culture, business, or fandom. Nan Desu Kan's non-profit charter prohibits us or our attendees from promoting any political agendas, ideals, or opinions, or taking any stances on religion.
Slander is not permitted. Panelists may express their personal opinions during their panels, but panelists may not attack the character of others.
Time Restrictions
Panels may be scheduled for 60, 90, or 120 minutes.
Panelists are expected to show up five minutes prior to their panel's scheduled start time. They are also expected to end their panels five minutes before the start of the next panel to give the next panelist time to set up.
Scheduling
Panels are scheduled according to several criteria. For this reason, we don't take requests for when to schedule panels. We'll do our best to avoid scheduling similar panels opposite each other, but we make no promises.
We will attempt to schedule each panel in an appropriately-sized panel room. We have limited space and not all panels can be in our largest panel rooms. We use historical data about panels from previous years to determine which room is the best fit for each panel.
All panels covering mature content matter will be scheduled after 9:00 PM. We'll be checking IDs at the door.
(See Scheduling under the Panelists section for information about how we schedule panels around panelists' schedules.)
Tech Setup
Most of our panel rooms are equipped with an A/V setup. In each of these rooms, we provide the following equipment:
A projector and screen.
A set of speakers.
A DVD player.
Our panel rooms will also have microphones set up at all times.
The provided video hookups are VGA and S-video: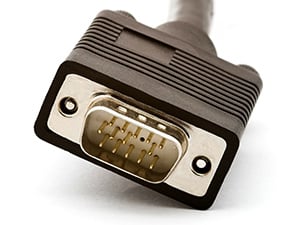 Public domain photo from the
Wikimedia Commons
.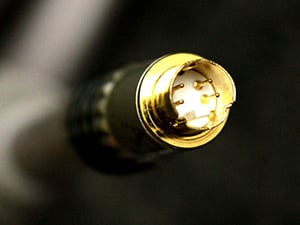 Creative Commons photo by
sean dreilinger
.
The provided audio hookups are RCA and stereo mini-jack (i.e. headphone):
Note: We do not provide adapters. Panelists are responsible for bringing any necessary adapters for hooking up their equipment to ours. We only provide the hookups mentioned above.
Note: We do not provide laptops. If you need a computer to run a presentation, please secure one on your own and test it before the convention. We will not provide panelists with laptops under any circumstances.
Panelists are expected to test their equipment and learn how to set it up before coming to the convention. We can only provide very limited support when it comes to such matters.
Internet connections are not available in the panel rooms. The hotel's wireless internet connection does extend to the panel rooms, but NDK won't pay for panelists' access to it. Nor should panelists rely on its presence. Panelists needing resources from the internet should download them beforehand.
Panelists must request any equipment they need or it won't be made available to them at the convention. Panelists shouldn't assume that any piece of equipment will be available for use unless they specifically request it.
Other Resources and Equipment
Except for the tech equipment listed above, Nan Desu Kan generally doesn't provide any additional equipment for panelists. If we have it, however, we'll be happy to provide it where possible, so please ask.
Panelists are expected to provide their own printed materials and other resources.
Panelists
NDK Registration
All panelists must be pre-registered for Nan Desu Kan (or be on NDK Staff) in order to submit a panel for final approval. Panels will not be accepted unless the panelists that submit them have already secured a badge for NDK.
Age Requirements
You must be at least 16 years old or have a co-panelist that is. No one under 16 may host a panel on their own. If you're under 18, you may not participate in panels that discuss adult topics. No exceptions.
Panelist Limits
So that you don't overload yourself at the expense of your panels, you may not run (or help run) more than six hours worth of panels per year. No exceptions.
Panels will be limited to two panelists. You may have as many people help you with panels as you'd like, but we'll only provide remuneration for the primary panelist and their co-panelist. There are no exceptions to this rule.
Scheduling
If your panel is accepted, you'll be expected to run the panel. If for some reason you can't run your panel, you must notify us at least two weeks before the convention. After that point, your panel will be on the printed schedule and it'll be too late to cancel.
If your panel is on the printed schedule and you fail to show for your panel, you'll be banned from running any panels at NDK in the future. The only exceptions made will be for emergencies, and only if you contact us before your panel is scheduled to begin.
If you have responsibilities that might preclude you from running a panel during specific timeframes, let us know on your detailed panel submission. Such obligations might include: volunteering for NDK, being on NDK staff, working for a dealer, having a table in Artists Alley, or participating in a major event (e.g. the costume contest).
If you'd like to attend any major events at NDK, you may choose up to three events in their detailed panel submission. We'll do our best to avoid scheduling you against those events, but we make no promises.
Remuneration
Nan Desu Kan will recompense each panelist as a token of our gratitude for helping to make NDK a more enjoyable experience for everyone.
For each half-hour of panel time that you run, you'll receive a voucher worth $5.00 that can be used as a pre-registration discount for next year's NDK or for buying NDK-branded swag at the NDK Merchandise desk. You can mix and match how much you want to spend on each. Vouchers are also transferrable, so if you want to share your spoils with a friend or family member, that's fine by us.
Vouchers will be given to panelists only after they've completed all of their panels for the weekend.
Note: We're no longer providing panelist badges, so it's each panelist's responsibility to provide their own admission to the convention. (That's where the vouchers will come in handy!)
Disclaimer
Nan Desu Kan accepts no responsibility for the content of panels hosted by its attendees. NDK does not extend any form of legal protection to panelists. Panelists are wholly responsible for the content presented in their panels.
Panel Signup Form
Panel submissions are now CLOSED for 2021
Thank you for your interest in running a panel (or other activity) at Nan Desu Kan. We look forward to reading your proposal.
If you haven't yet done so, please take this time to go read the Panel Guidelines (above).
All prospective panelists must read and understand these guidelines before they submit proposals. Failure to understand the guidelines could result in the rejection of your proposal.
If you aren't prepared to submit a detailed proposal just yet, please take your time to flesh out your panel idea. We'd rather see a strong proposal later on than a weak one earlier on.
Please don't delay too long, however. The deadline to submit the detailed proposal for your panel is,  July 15 at 11:59 PM MDT (Date subject to change). This form will be disabled after that time and all panels not submitted by that point will be rejected without exception. We cannot accept panels from panelists who are not registered for the convention. Please make sure you're registered before submitting your panel.
If you've read the Panel Guidelines (above), fleshed out your panel idea, and are ready to submit a detailed proposal, please continue.
---