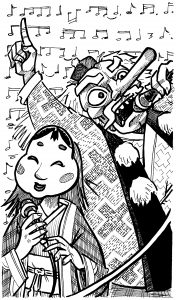 Did you know that the majority of NDK's panels are created by our attendees? It's true!
While NDK has panels from our invited Guests and Industry folks, most of the content in our panel rooms comes from the folks that attend NDK every year!
Guest panels can include traditional Q&A sessions, Voice Actors  talking about upcoming series, or sneak peaks from our friends at the production studios.  But! We at NDK like to know what our guests are really excited to talk about. So you will see offerings from our guests that may include their personal passions as well!
Our attendee panels over the years have touched on many topics related to anime fandom. Some of our past topics have included: tutorials about how to improve your costumes, roundtables about your favorite series of anime, panels for the lgbt community, panels on how internet and piracy affect the anime industry, exploring parts of Japanese culture, swap meets, sing alongs, and much more.
Do you have an awesome idea for a panel? Great! We would love to hear from you.
First, view the Panel Guidelines.
Next, Submit your panel idea!