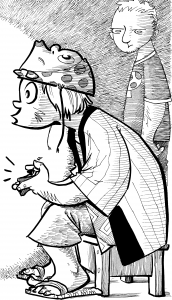 This year's Video Game Room will be just like every other year's room—and yet completely different. There will be several tracks of constant gaming all weekend long featuring the PS3, Xbox One, and Wii-U, as well as tournaments, pachinko and prizes, and general mayhem courtesy of the VGR Staff. We're also featuring our usual awesome array of events including Street Fighter V, Super Smash Brothers Wii-U Doubles, Pokken tournaments; and Rock Band open play after the tourneys are done!
Ch, Ch, Changes!
It's been awhile since we had a new Smash Bros game to showcase, and we love bringing them back for tournament play.  This year we will be running 2-Two-Person teams for a Super Smash Bros Wii-U Doubles Tournament!  We'll also be experimenting with making all our console station screens more visible for the gathering crowds.  Feel free to tell us what you think!
Open All Convention Long
Even with the new digs we are remaining 24 Hours with no cool downs for main systems and arcade machines!  VGR staff and love staying up all night.  Once Again: NO COOL DOWN, NO CLOSING!
Charity Arcade
Every year, NDK raises money for charity and this year the VGR is getting involved with that. NDK is providing arcade machines with a variety of games to be played all weekend long including Galaga, Sinistar, Metal Slug, Samurai Shodown and more! Come and play for a good cause!
Pachinko for Charity!
Center-room showcase for Pachinko for Charity is also here to stay!  Our phenomenal showcase increased our charity contribution to record amounts and we have you to thank for it.  So give us your money for a cup full of balls and have at them!
No Tournament Sign-Up
If you want to join a tournament just come in when the tournament starts so we can check your badge, and collect a tournament token. Each token has a number, and those numbers are your ticket into the tournament! When you sit down to compete, you'll slot up your token right there, and if you get beaten, you lose it. If you win, that token is your proof that you're still in the tournament. Keep track of it! And don't try trading it to your friends- we're watching you, smart guy.
Prizes
We are sponsoring our usual number of special prizes this year: Best Video Game Art/Model, Best Video Game Costume, and Best Video Game Music Video. The winners get a Golden Joystick of their very own, and some extra special prizes as well!
The Rules
We've got some straightforward rules and regulations in the VGR, including the still pretty new Rule 11, and they're clearly posted everywhere. Let's go over them real quick, just to be sure:
1. No food or drink is allowed in the VGR at any time, unless you're a VGR staff member. Yes, we will eat right there in front of you, and make fun of you if you cry.
2. No roughhousing. There are really no situations where body parts should be touching other body parts while in the VGR. The only real exception is when you shake the hand of the person who just whupped your hiney at SFV, because you're a good sport.
3. Do not abuse any games, systems, peripherals, or staff members in the VGR. Seriously. Anyone damaging equipment intentionally will have an equivalent weight in body parts removed by the VGR Staff. You are not Pete Townshend; do not smash that guitar controller when you finish your set. Destruction of hotel or NDK property is an immediate ban from the convention.
4. No unattended children under 12. The VGR is funded primarily through the sales of unattended children to medical research facilities.  But hey, maybe some of those researchers are actually mad scientists.
5. No outside games, or systems. This is due to Colorado State liability laws, not because we're jerks. No, we're not making an exception for you. Stop asking. Yes, we're talking to you. You know who you are; you ask every year.
6. You may bring your own controllers including joysticks for use in the VGR for Open Play and Tournaments.  However, don't be a lowdown dirty cheater with them.  If you cheat in open gaming you're just being a jerk.  If you cheat in a tourney you're being a jerk that'll be kicked out of the tournament at the very least.
7. No stealing from us or your fellow attendees. A terrible curse is laid on those who steal from the VGR: all your saved games will be corrupted and lost, right after you get further in your game than you ever have before. Beware!  Oh, and you'll get Ban-Hammered.
8. No whining. Please note that this rule does not say: no suggestions, no feedback, no requests or no opinions. Just No Whining.
9. Do not leave your personal belongings in the VGR. Not only are the VGR staff not responsible for your personal belongings, we refuse to take responsibility for them. If we find unattended items we will take them to the lost and found at Convention Operations.
10. No sleeping in the VGR.  Yes, we're fully operational for the duration of the convention.  No, this is not your crash pad.
11. To play pachinko, just locate the staffer nearby, give them some money and play pachinko with your cup full of balls!  All joking aside: DO NOT ATTEMPT TO OPERATE THE PACHINKO MACHINES BY STUFFING THEM WITH QUARTERS!  The Ban-Hammer will be used to smite the offenders right off the premises.  With luck, they may even see the curvature of the Earth.
The Golden Rule of the Video Game Room: Pass That Controller
The chairs in the VGR are set up in rudimentary lines, clearly indicating who's "got next." If you want to play a game, have a seat. As people finish, they move away and everyone moves forward. Sometimes a game is so popular that people stand in line behind the chairs – this is okay too. You know what the best part of this system is? You, the attendees, created it yourselves. You did without any direction from VGR Staff. The Shogun and his Crew couldn't be more proud of you. When you finish a game, check to see if someone is behind you waiting for it. If no one wants in, you're all good. If someone wants to give it a try, pass it on. You'll be back in no time, because they have to pass when they're done too.
If someone isn't passing the controller, tell a VGR Staff member immediately. We are serious about enforcing this rule, but whining about it after the fact is fruitless. If we could travel through time, we wouldn't have to work for a living.
Addendum: this also includes the "winner passes" or "loser passes" rules—those rules do NOT apply in the VGR. If you win the match, pass the controller. If you lose the match, pass the controller.
Tournament Schedule for 2016
Saturday, September 3rd:
10:00 a.m. Super Smash Brothers Doubles
5:00 p.m. Rocket League Doubles
8:00 p.m. Black Ops 3
Sunday, September 5th:
11:00 a.m. Street Fighter V
2:00 p.m. Pokken
Please remember that there is no sign up for tournaments.  Get to the tournament center and the VGR Staff will check your badge and give you a numbered token!