Our AMV Contest is very popular and it always fills our huge main events room to capacity, so be sure to get in line early so you can get a good seat! And in case you miss the first showing on Saturday afternoon, we'll replay the contest on Sunday morning. Be sure to check out the AMV Contest Award Ceremony later on Sunday where we'll replay the winning videos, and where the winning editors will receive their beautiful Asuka statues.
Contest Categories
Often imitated but never duplicated, our AMV Contest entries are divided into the following categories:
Category X —

Creative, artistic, unique and visually striking videos.



Action/Adventure —

 Exciting and energy filled videos.

Drama/Romance —

Videos that give us the feels, both happy and sad.



Comedy/Parody —

Funny, amusing and quirky videos go here!



Upbeat/Dance —

Videos that put you in a good mood or make you want to dance!



Anime Music Videos
Anime music videos (or AMVs) are the creations of passionate individuals with an interest in video editing and a love for music and anime. Our annual AMV Contest showcases the amazing skills of our community of editors, and it's quickly become one of the top AMV contests in the country!
Submit a Video
Submissions for our World Class AMV competition open in Summer of 2023!! You can submit your video using the form located at the bottom of this page. 
Prizes
The audience will vote by ballot for their favorite video in each category, along with their choice for Best of Show video. Best of Show awards will also be awarded by the AMV judging staff, and by the attending AMV editors. All of these winners will receive a coveted Asuka award. There will also be a special award presented for the best video using video game footage; this video can be awarded from any category.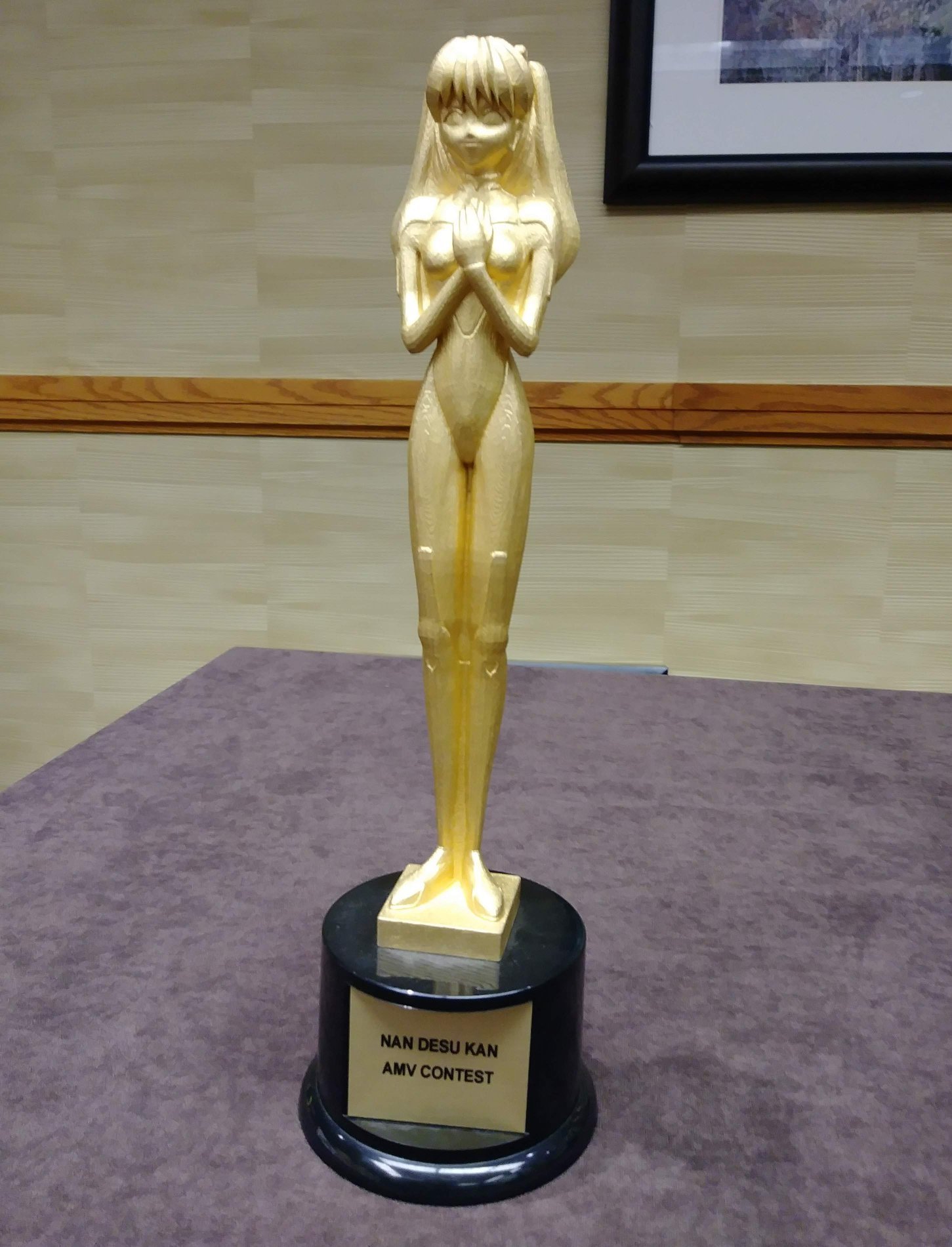 AMV Contest Rules
Please read through all of these rules before submitting your video!

Submitting a video does not guarantee a spot in our contest as we receive quite a few entries and can only show so many during our roughly 2 hour run time.
This contest is open world-wide to anyone who loves to make AMVs! This contest is NON-EXCLUSIVE meaning that you can send videos that were made for or sent to other contests. If there are any questions, please feel free to e-mail your questions to the AMV coordinator.
NO videos with only live action!

In order for a video to qualify it must be at least 70% anime. You can include live action or non-anime sources as 70% of the video consists of Japanese anime.

Video game videos (VGA) are welcome!
Original animation is welcome

, but please try to keep it anime style/Japanese influenced.

If your video is not a VGA or original animation then the primary focus must be anime/manga. While we understand that anime can be seen as anything that is animated we are specifically looking for shows that are animated/originated in Japan. This means series like Avatar, RWBY, Castlevania, Chinese or Korean made anime, etc. are not allowed and will be disqualified.
Multi-Editor Projects (MEPs) and Collabs are welcome.

Please note that only the editor who submits the video will receive a badge or award in the event of a winning video.

Do NOT resubmit any videos

that have been submitted to NDK AMVs contests previously.

All videos must have been made/finished after the previous year's convention.

Keep it PG-13! Explicit content is a no-no! Leave the hentai at home and bring the family fun.

You may submit

up to 5 entries per person

. All entries must have been finished or released by our submission deadline. And of course…

If you didn't make the video… DON'T ENTER IT! If we catch you stealing someone else's video, then you can count on not being able to enter again. Here at NDK, we value our creators and the the time and effort they put into their videos.

Categories and Prizes
Audience Selection– Audiences will be provided with ballots at the event and asked to vote for their favorite videos in each category:
Category X
Action/Adventure
Drama/Romance
Comedy/Parody
Upbeat/Fun
Best In Show Audience Choice
Editors in Attendance: Editors who are in attendance and who present their badge earned from submitting an AMV to the contest that year will receive a specially marked ballot that will allow them to vote in the following category:

Best in Show Editor's Choice
Staff Selection – These videos are pre-judged prior to the event by various members of the NDK staff. Voting during the contest does not affect these videos and winners can also be selected from the pool shown during the Overload event.
Best Video Game Video
Best Local Video
Video Technical Requirements
Accepted Resolutions
The preferred resolutions for videos submitted to the contest are 1280×720 or 1920×1080. Other resolutions will be accepted, but please understand that lower resolutions may lead to unacceptable artifacts when projected on to a large screen.

Please note that if you're using older sources or sources that display at a 4:3 resolution (fullscreen) then you are not required to upscale or alter your videos.

Framerate

23.976 / 24 fps, 29.97 / 30 fps, or 59.97 / 60 fps

Audio

Uncompressed audio is preferable. 224 kbps or higher, avoid variable audio bit rates.

Video

Videos should be encoded with sufficient bitrate so as to not add any noticeable artifacts. Space is not in shortage, so go big. Interlaced video is strongly discouraged as it typically looks poor on modern displays. Variable frame rate encoding is strongly discouraged due to inconsistent playback among editors and players.

Accepted File Types

MP4 or MKV are preferred but we will also accept AVI or WMV.
Time Limit

We request videos shorter than 7 minutes but we have made exceptions in the past for videos we've deemed worthy of the extra time provided. These decisions are made by the judging staff on a case by case basis.

Title Bumpers

Please try to provide a creditless version of your video. We create custom bumpers for each video and category in an attempt to create a "clean" and uniform contest.




We understand some contests require you to create bumpers for your videos to be submit and while you're welcome to submit those videos we do request you remove the bumpers first.




If you send a video with titles and credits included please note that our editors on staff

will

edit them out to the best of their ability.




So if you don't want us to cut them off for you please, please cut or remove them from your video prior to submission.
WARNING: If your submission has macroblocking, logos, subtitles, interlacing, or is downright painful to look at, it can and most likely WILL be disqualified. If your submission has macroblocking, logos, subtitles, interlacing, or is downright painful to look at, it can and most likely WILL be disqualified. We will be emailing entrants about any type of playback issues as soon as the video has been reviewed, in hopes of having it corrected for resubmission. We're not trying to be mean, but due to the large number of videos we've had to disqualify due to quality issues, we have been given no choice but to implement this rule. And remember! We're willing to help! We want to see you get better, so don't hesitate to e-mail with your questions!
Submit a Video
AMV Submissions OPEN NOW until August 19th!!!
We ONLY accept entries via our submission form located further down this page. No more mail-in submissions! If you have any questions on how to use our upload page then please contact the AMV Coordinator.
All video submissions must be accompanied with appropriate video and editor contact information. Failure to provide full information can lead to disqualification of one or all of your videos. Please provide the following information.
Editor Name (Your username that you want your video credited to. This can be real or made up.)

Mailing address (Where you live and where your mail goes)

E-mail address (So we can contact you regarding your entry)
Also for each video provide the following information:
Title of the Video

Song/Audio Information (What is the name of the song and the artist who performs it?)

Name of footage used (if more than 3 sources please just list "Various")

Name of category preferred to be entered in (Although please keep in mind that the AMV staff does reserve the right to move any video into any category they deem it is best suited for)
Pay close attention to the information you're entering, otherwise your video may end up on the big screen, complete with spelling errors and incorrect information!
Note: If submitting a multi-editor project (MEP) please list all the creators in the comment section of the entry form. Wouldn't want your friends to be left out!
---