2023 Guests of Honor 
A special thanks to our friends at Powell Talent for helping us with our guests this year! All Guest Schedules are subject to change depending on availability. Please check the print schedule at the convention for confirmed appearance times.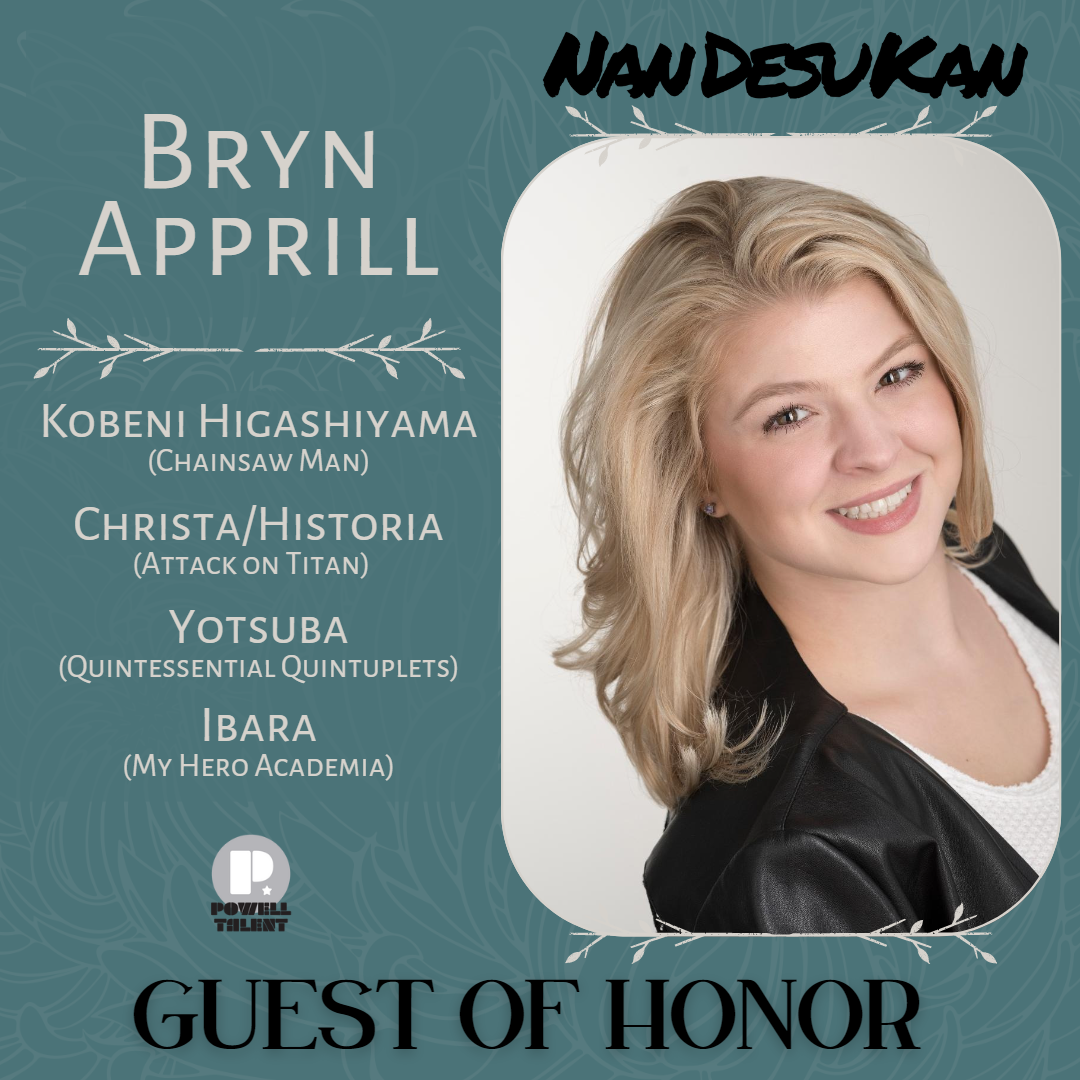 Bryn Apprill  is a Texas-based voice actress who has been involved in the anime dubbing industry since 2013. She feels incredibly grateful to have been lucky enough to work with studios such as Crunchyroll (formerly Funimation Entertainment), Okratron 5000, Sound Cadence Studios, Studio Nano, and many others over the years; building up a resume of over 150 characters (and hopefully more to come!).
 Some of her latest and most recognized roles include Historia Reiss/Christa Lenz from Attack on Titan, Yotsuba Nakano from The Quintessential Quintuplets, Ai Mizuno from Zombieland Saga, Attack Onμ from Listeners, Miku from Darling in the Franxx, Nene Sakura from New Game, Hikari Takanashi from Interviews with Monster Girls, Hiyori Iki from Noragami, Ritsu from Assassination Classroom, Cyan from Show By Rock!!, Mimosa from Black Clover, Tsugumi Harudori from Soul Eater Not!, Ibara Shiozaki from My Hero Academia, Kotori Itsuka from Date A Live, Meldy from Fairy Tail, Shirahoshi from One Piece, and many more (for a full list of works visit Animenewsnetwork.com).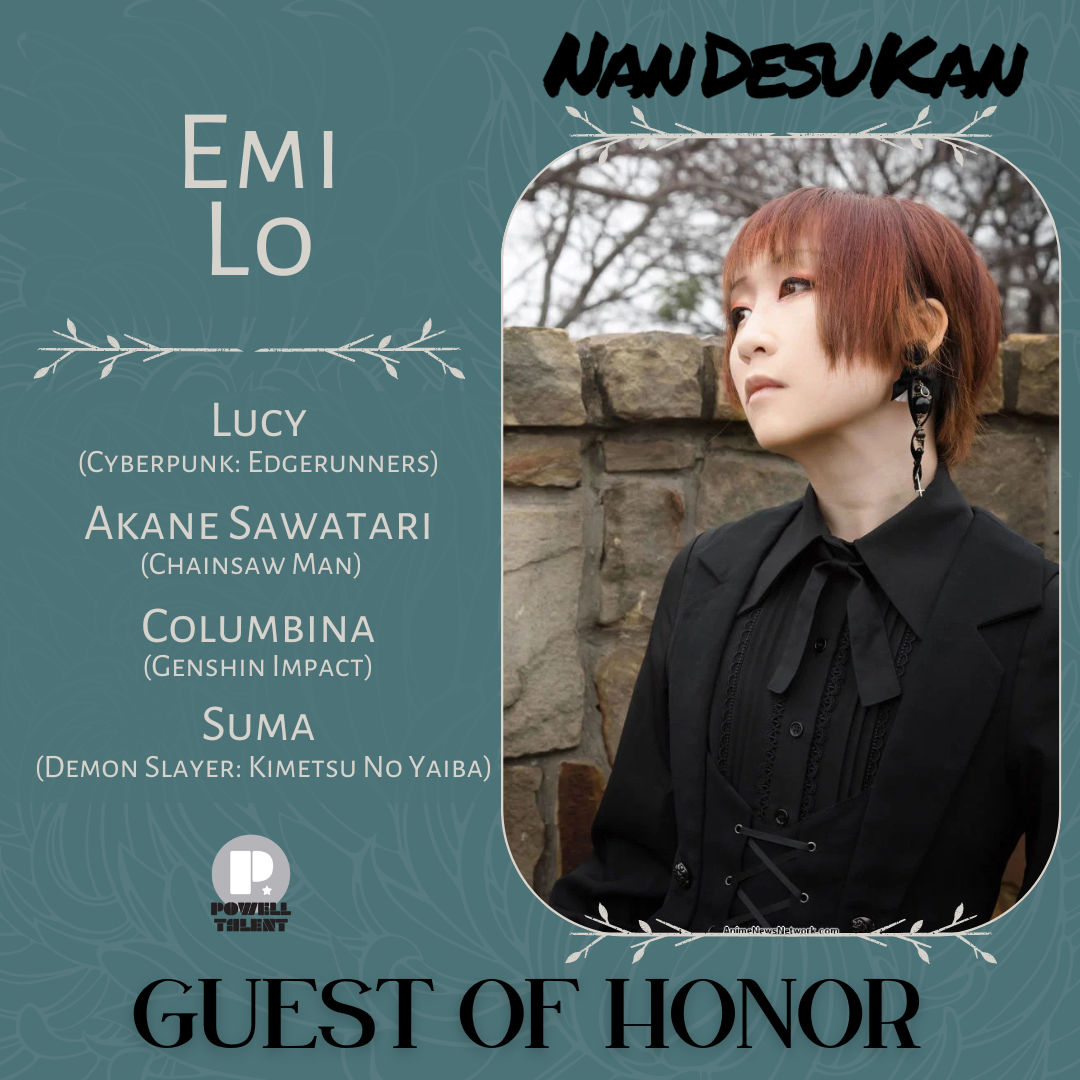 Emi Lo is a Taiwanese/Chinese-American voice actor and director. They are most well known for voicing Lucy in Cyberpunk: Edgerunners, Rena in Higurashi When They Cry, Rinku in D4DJ, Suma in Demon Slayer, Columbina/Damselette in Genshin Impact, Uta in Bubble, Hei in The Legend of Hei, Destiny in takt op. Destiny, Shuten Douji in Fate/Grand Order, Kate in Shadows House, Mirai in Dr. Stone, and Evelyn in Pokemon Masters EX, but can be heard in countless other anime and video games.
When Emi is not acting, they can be found playing piano, playing video games, cosplaying, modeling, singing, eating, or exploring natural and man-made ruins. They also have an absolutely precious but spoiled Siberian cat named Noctis that has never done anything wrong and is incredibly cute and fluffy.
Visit their Twitter (@kitsunesqueak) for updates and pictures of their fluffy child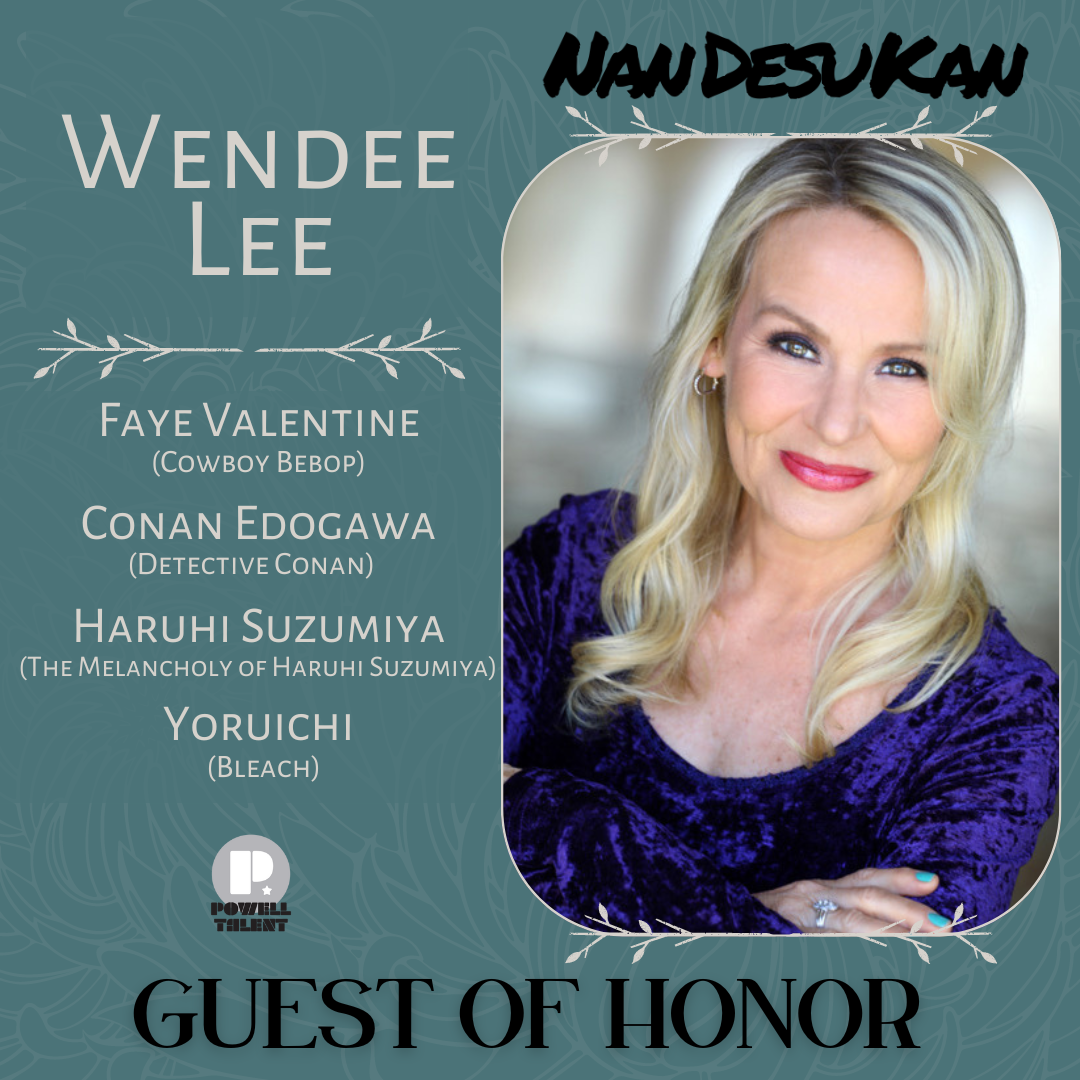 Wendee Lee
With an iconic career spanning over four decades, and over 600 credits she holds a record as one the most credited voice actresses in North America, and was named one of the Top Twenty voice artists of all time.
Career highlights include Cowboy Bebop, Sailor Moon, Haruhi Suzumiya, Bleach, Vivy, League Of Legends, NieR, Devil May Cry, Neptunia, 14 'Tales Of' games, Persona, Robotech, Doraemon, Akira, Fire Emblem, Ninja Scroll, Digimon, Mighty Morphin Power Rangers, Monster High, World Of Warcraft, March Comes In Like A Lion, Magic Knight Rayearth, Gundam, Dragonball, Soulcalibur, Detective Conan, Outlaw Star, Lucky Star, Ever After High, Phoenix Wright Ace Attorney, God Eater, Durarara, Naruto, Boruto, Persona, Xenoblade, and Polly Pockets.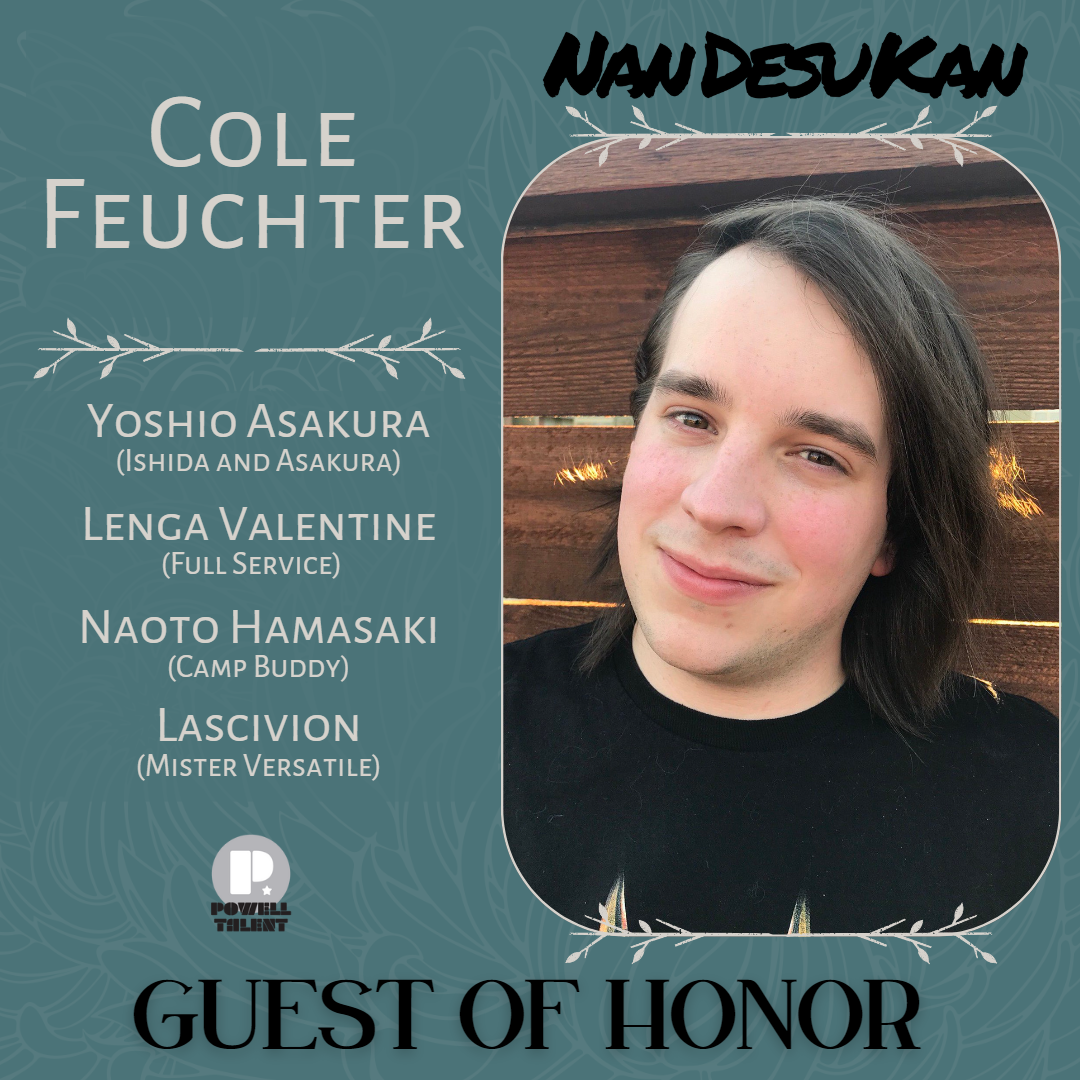 Cole Feuchter is a voice actor based out of Dallas, Texas. Most notably, you can hear him as Yoshio Asakura (ISHIDA & ASAKURA), Naoto Hamasaki & Archer Springfield (CAMP BUDDY), Lenga Valentine (FULL SERVICE), Lascivion (MISTER VERSATILE), The Divine Speaker (THE DIVINE SPEAKER), Fàn Lí/Zhú Yīn/Dù Kāng/Zhong Li Quan (HEROES OF MYTHIC MIGHT) as well as various character in other mobile games such as SOUL LAND RELOADED. He can also be heard in the anime dubs of THE SAINT'S MAGIC POWER IS OMNIPOTENT, THE CASE STUDY OF VANITAS, THE TITAN'S BRIDE and AKUDAMA DRIVE.
Cole is also fluent in Japanese, earning his degree at the University of North Texas, and outside of voice work, he is also a content creator and was even one of the creators for GAMESTOP TV frequently featured in the "All-In" segments.
If you want to learn more about Cole, you can check out his Twitter @LordAzria or his website at colefeuchter.com.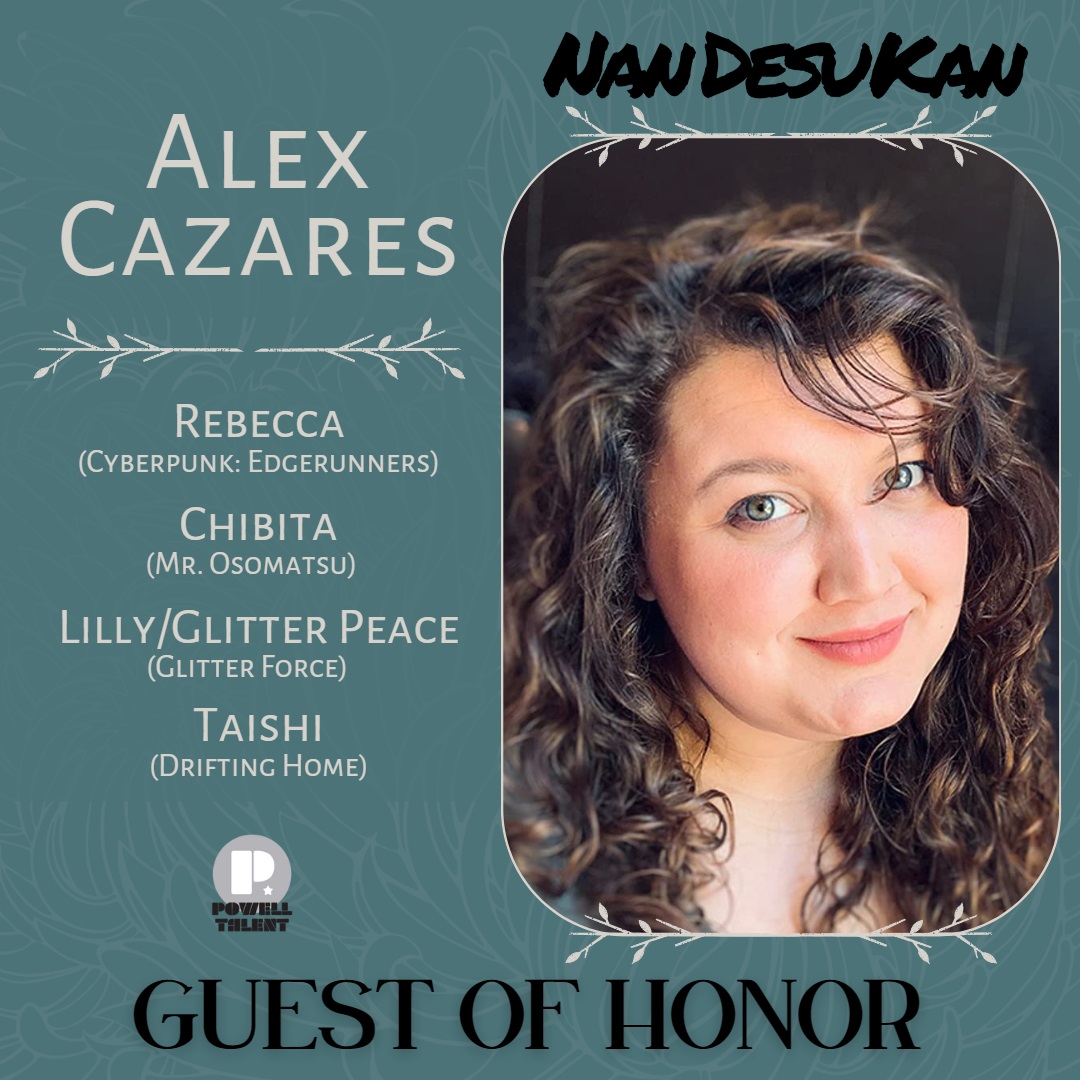 Alex Cazares is an American Voice Actress, born and raised in southern California. Even as a child, Alex knew she wanted to make cartoons. So she went to animation school where she tortured (alt: entertained) her classmates with ukulele and silly voices. While studying animation at Loyola Marymount University, Alex took a class with Debi Derryberry, the voice of Jimmy Neutron, who taught her the ropes and encouraged her to pursue a career in Voice Over.
Alex has appeared in a variety of cartoons and video games including Cyberpunk: Edgerunners, Baby Shark's Big Show, Boss Baby: Back in Business, The Mighty Ones, Fallout 76, and many more.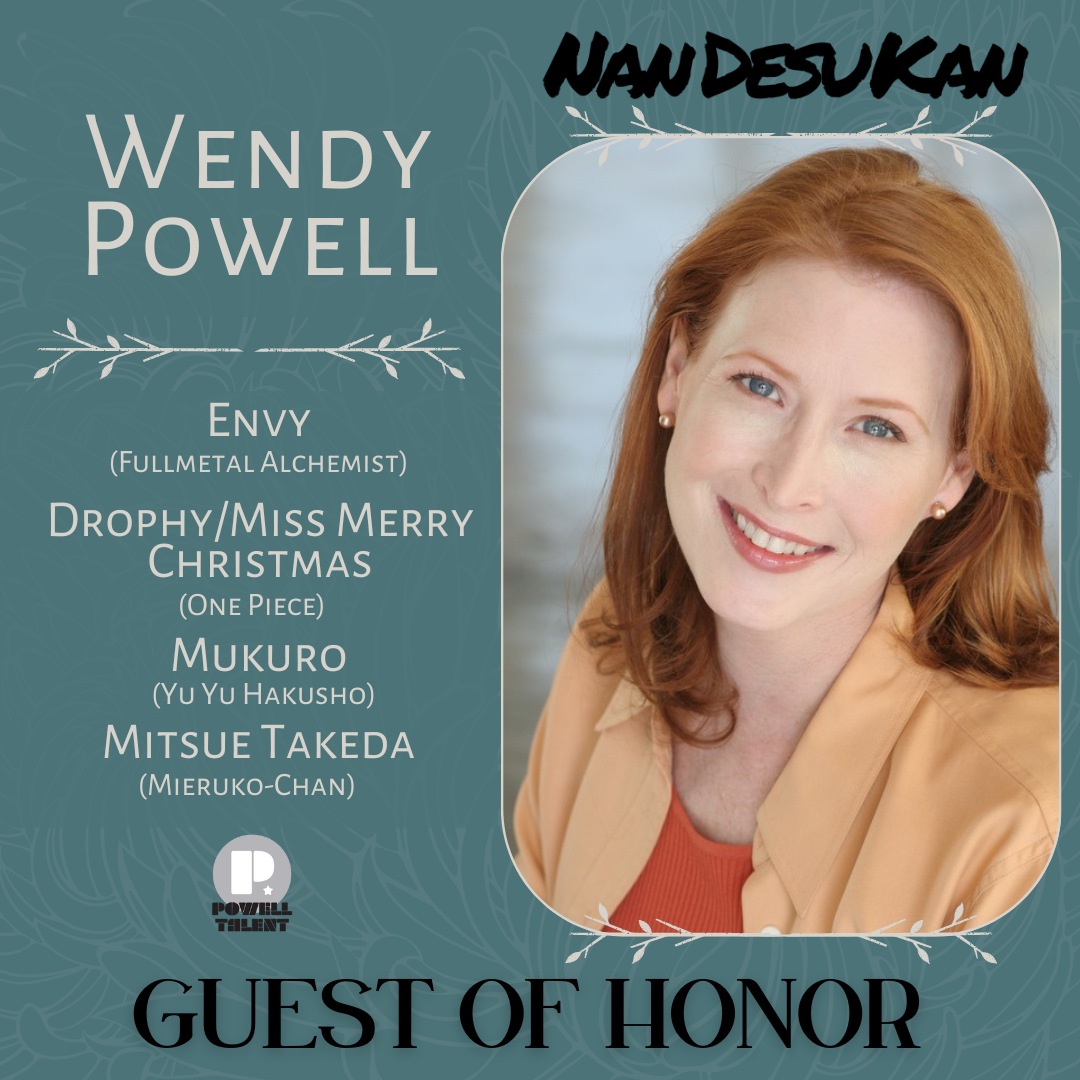 Wendy Powell  absolutely loves what she does, performing in all forms of media: film, television, radio, narration, and video games. But where her character-creating skills truly come to life is in anime! Mirroring the shapeshifting abilities of her iconic Fullmetal Alchemist role Envy, she changes her voice into anything and everything imaginable, including quirky robots, mysterious omnipotent aliens, little old fox ladies, wispy exorcists, and everyday human beings.
In 2000, Wendy first began working with Funimation as Amick Hendar in Blue Gender, and from there she just kept on going! Her most well-known roles include Ilena in Claymore, Mukuro in Yuyu Hakusho, Miss Merry Christmas in One Piece, and as a "guest star" Popuko in Pop Team Epic! Of course, Wendy's vocal transformations can be heard in so much more, including My Hero Academia, Overlord, Space Dandy, Fruits Basket, Case Closed, D. Gray Man, Fairy Tail, Sengoku Basara, Prince Adventures, Sgt. Frog, and… well, how much time do you have, because at over 120 titles, this list could go on for a while…
Amelie Belcher  is an award winning artist, painter, art instructor, comic creator, Twitch streamer and podcast host. Known for her comedy based art education presentations, she has traveled the world teaching thousands of budding artists the secrets to starting their own journeys downloading the path to artistic expression with an eye eared toward Anime and Manga styled creations. She is known for her webcomics "Bounty Haunters" and "The Real Life Adventures Of Ami Chan". You can read her work on her website www.amiarmy.com and watch her weekly Twitch streams at twitch.tv/ameliebelcher.
Amelie believes that art is for everyone and gatekeeping is for suckers. During her presentations and Twitch streams she holds back no secrets and will gladly answer any and all questions a budding artist may have. As a Texas transplant from New Orleans, she has quite a few stories to share from her 20 year career in both anime conventions and the art world. Come enjoy her classically deep south drawl and laissez faire attitude.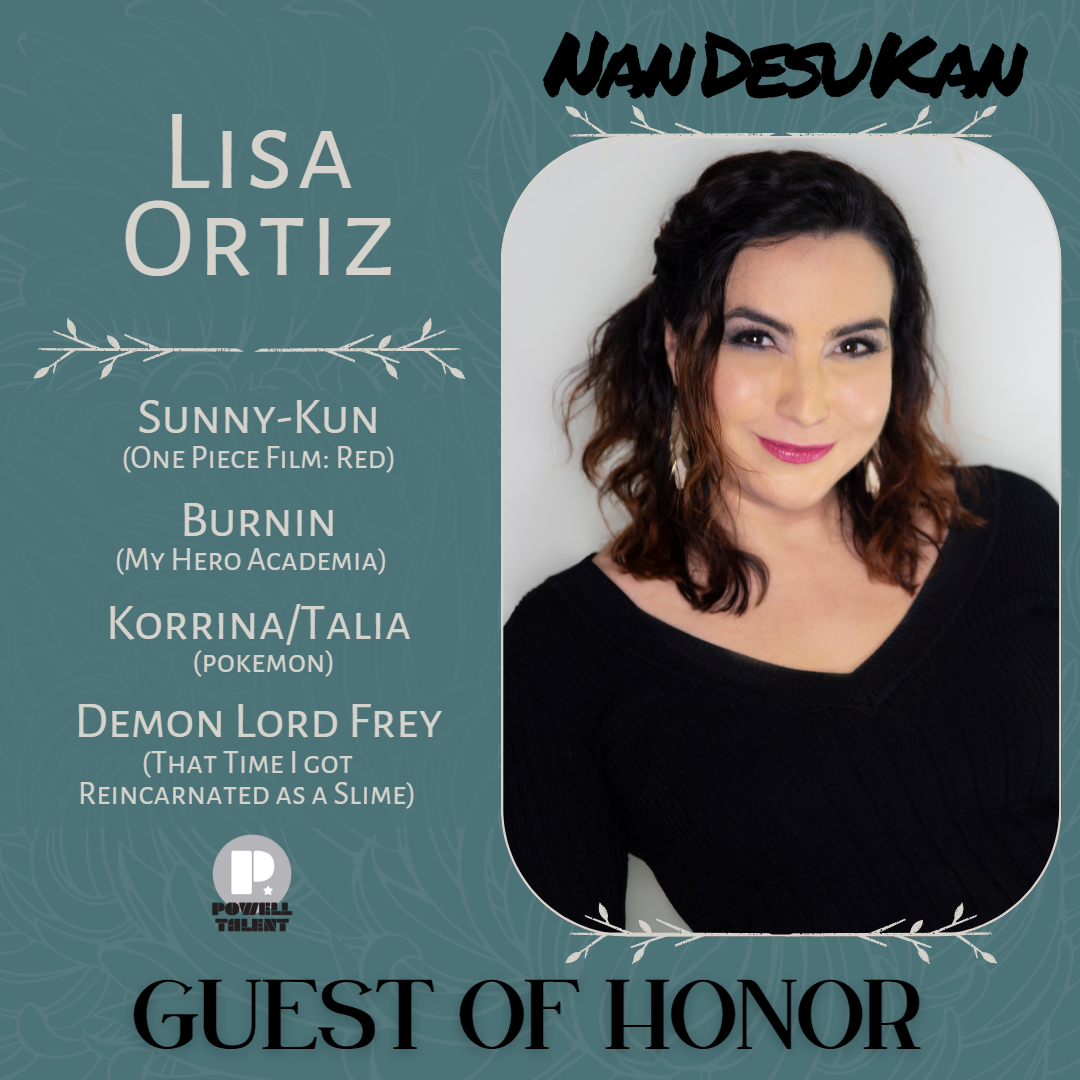 Lisa can currently be heard as Burnin in My Hero Academia, Korrina/Talia in Pokemon, as well as as the Demon Lord Frey, in "That Time I Got Reincarnated as a Slime" (amongst others): as va, she is most well known  for her role as Lina Inverse, Amy Rose in Sonic the Hedgehog, and Serenity Wheeler in Yugi-oh,  but she began her career as the high elf Deedlit in Record of Lodoss War. Since then she has gone on to record dozens of anime, series, audiobooks, video games, and films both as a voice and as a Producer, Director and Adapter. Her voice has been heard internationally on Disney XD, SciFi, Cartoon Network, WB, Funimation, Nickelodeon and Netflix amongst others. She has appeared in the one woman show "I Couldn't Possibly Love You" at 53 above at the Broadway Comedy club and Don't tell Mama, as well as the Anime Cabaret Improv Jam.
She is currently the director of Pokemon Journeys  and has worked on the show in various capacities over the years since Indigo League. Voicing over two dozen Pokemon and 10 plus trainers, From Misty's older sister Daisy, to Sabrina, to Flannery, to Talia, Neesha, Oshawatt, to Fletchling and present day gym leader Korrina, Litten, Rotom Rocket, Torracat and Poipole.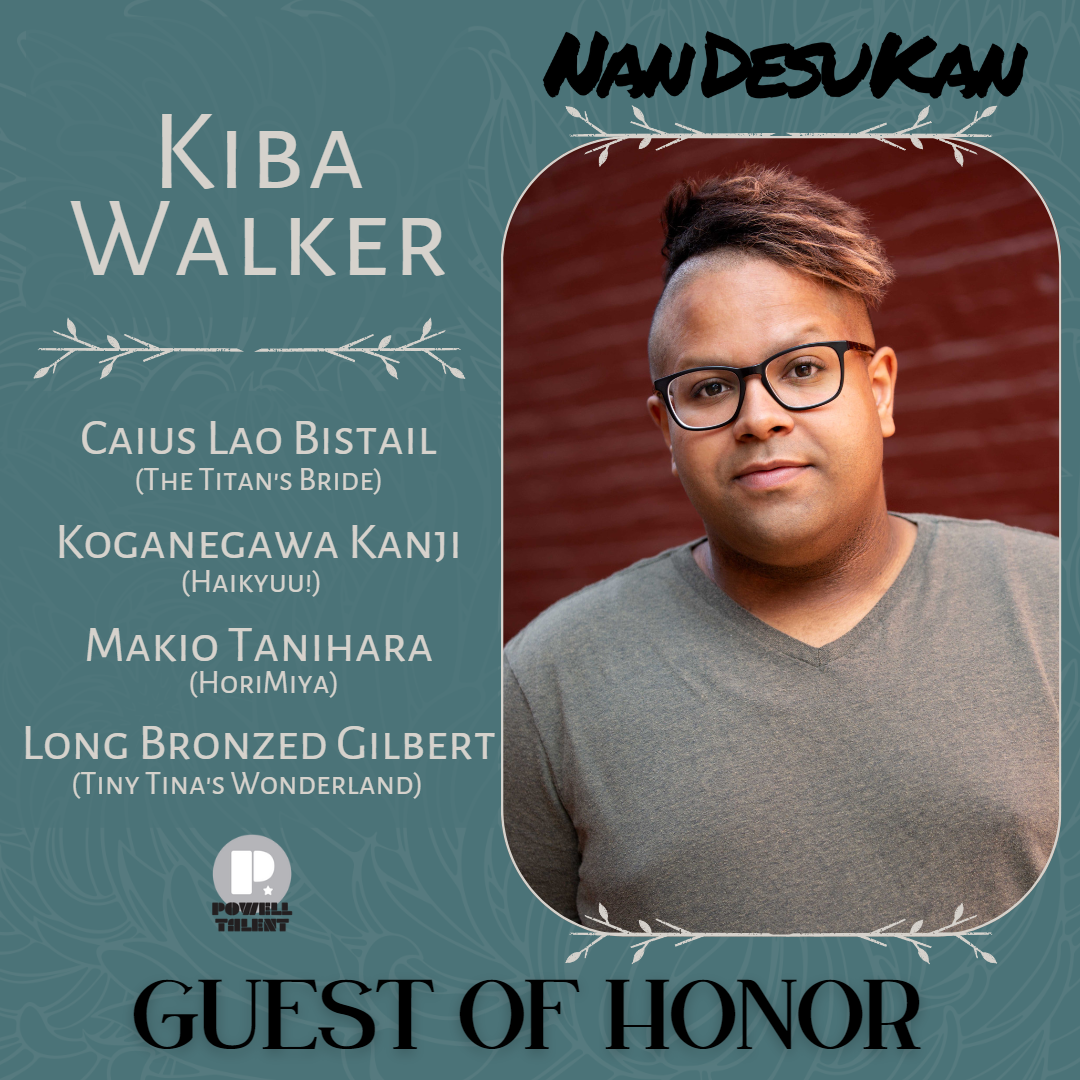 Kiba Walker is a voice actor and performer based out of Dallas, Texas. His most notable roles in anime are in Haikyuu!! (Koganegawa/Komi), Tomodachi Game (Manabu), The Heike Story (Kiyotsune), My Hero Academia (Cider House Leader), How the Realist Hero Rebuilt the Kingdom (Brad Joker), Black Clover (Paplo), The Titan's Bride (Caius Lao Bistail), HoriMiya (Tanihara), Sasaki and Miyano (Kouhai), 86: EightySix (Marcel), Junji Ito Collection (Tsukano), Back Arrow (Gote), BOFURI (Christmas Rose), Edens Zero (Younger Foote Brother), Magatsu Wahrheit Zuerst (Jade), Saint Seiya (Scylla Io), Kono Oto Tomare (Naoya), Case File Kabukicho (Diana), Skate Leading Stars (Irie), Ishida and Asakura (Oppai-seijin), Cautious Hero (Kebono), and Cells at Work!! (Mumps Virus).
You can also hear him in Cardcaptor Sakura Clear Card, Garo Vanishing Line, Fruits Basket, One Piece, The Case Study of Vanitas, Legend of the Galactic Heroes: Die Neue These, Lupin III: Prison of the Past, Radiant, The Saint's Magic Power is Omnipotent, Sorcerous Stabber Orphen: Battle of Kimluck, Zombie Land Saga Revenge, and more.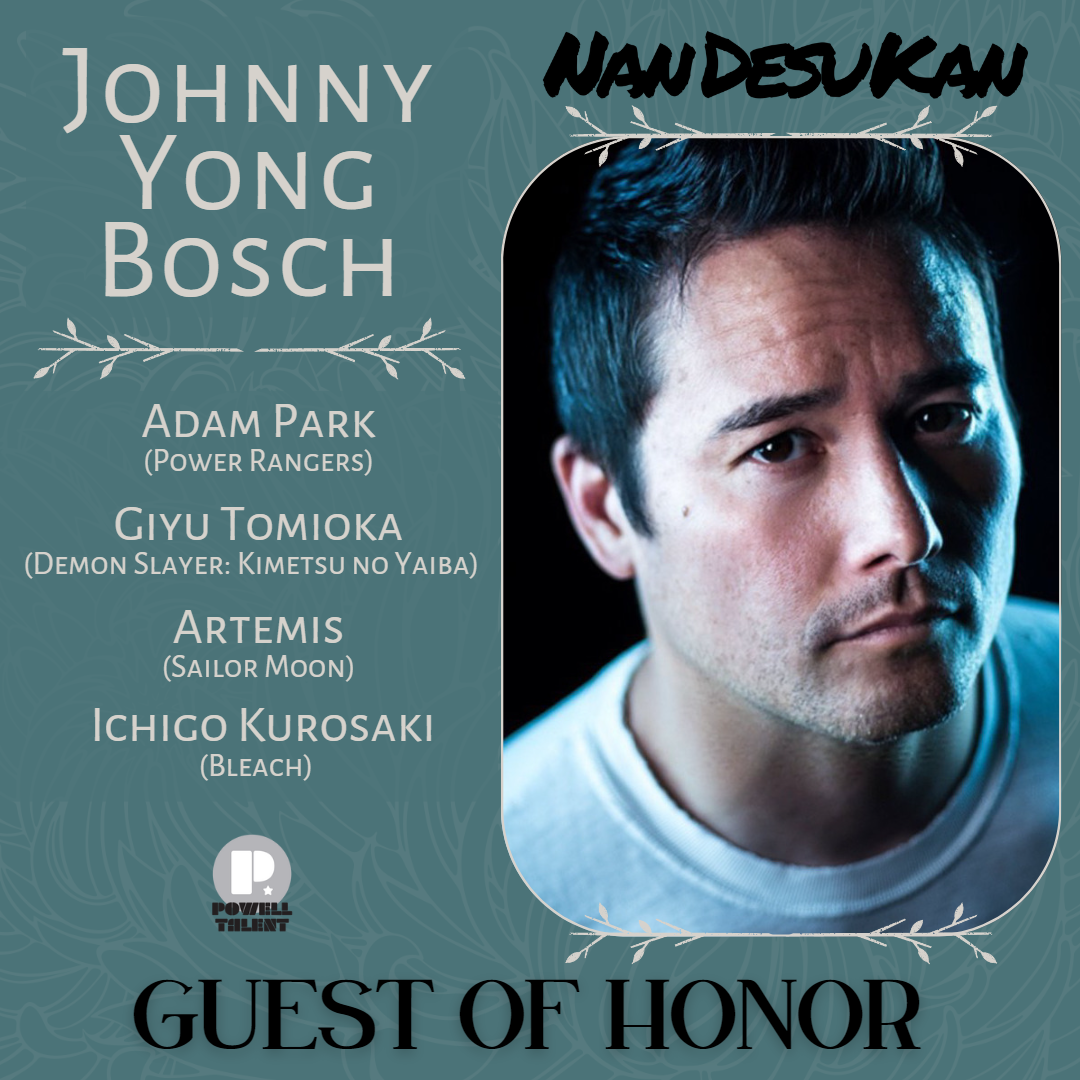 Johnny Yong Bosch got his start fighting giant bugs as Adam Park, the Black Ranger, Green Zeo and Green Turbo Ranger on Mighty Morphin Power Rangers. It is a role that he would play for three and a half seasons on television, two motion pictures and two special guest appearances in future Power Rangers seasons.
After Power Rangers, Johnny became very involved in the world of voice over. His first major voice acting role was Vash the Stampede in Trigun. He later went on to voice Kaneda in Akira, Renton in Eureka Seven, Kiba in Wolf's Rain, Ichigo Kurosaki in Bleach, Lelouch Lamperouge in Code Geass, Izaya in Durarara and Yukio in Blue Exorcist, Sasori in Naruto, Artemis in Sailor Moon, Hajime in Danganronpa 2, Makoto Tachibana in Free!, Nate in Yokai Watch, Orga in Mobile Suit Gundam Iron Blooded Orphans, Haruo in Hi Score Girl, Zora in Black Clover, Jonathan in Jojo's Bizarre Adventure, Sabo in One Piece Stampede, Giyu in Demon Slayer, Lio in Promare, Broly in Dragon Ball FighterZ, Nine in My Hero Academia: Heroes Rising and many more.
Johnny's voice can also be heard in numerous video games. Providing voices Nero in Devil May Cry 4 and 5 (including motion capture), Kuhn in .hack//G.U., Adachi/Narukami in Persona 4, Almaz in Disgaea 3, Emil in Tales of Symphonia, Guy in Tales of the Abyss, Firion in Final Fantasy Dissidia, Bumblebee in Transformers: War for Cybertron, Yang in Street Fighter IV, Zero in Marvel VS Capcom 3. Yukimura in Sengoku Basara, Torian Cadera in Star Wars The Old Republic, Zero in Smash Bros, Iron Fist In Marvel Ultimate Alliance 3 and Kung Jin in Mortal Kombat X.