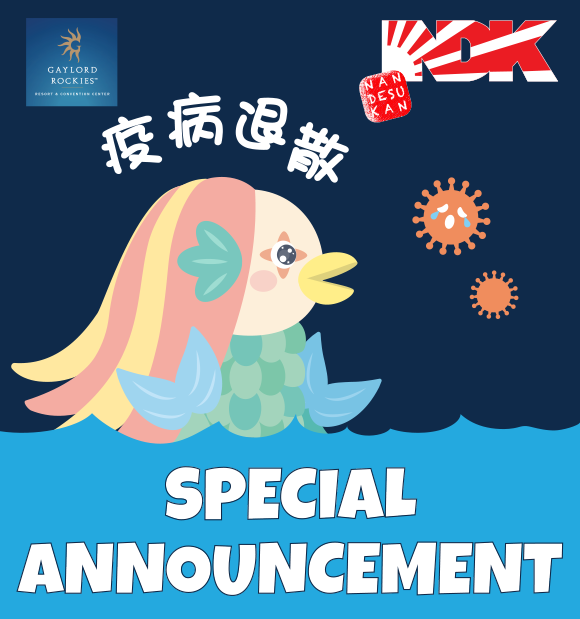 Greetings from the Rocky Mountain Anime Association
Thank you for your patience as we have navigated through this year. As an Organization, we have been quiet for the past several weeks, waiting for more guidance from the Governor's office, State Health Department and our venue. We have been closely watching the COVID-19 trends, and talking with NDK Staff about how to potentially run a convention during a global pandemic.
Today we are sad to announce that Nan Desu Kan 2020 will be cancelled due to the COVID-19 Global Pandemic.
In conjunction with our venue, the Gaylord Rockies, we have decided that it is impossible to hold a completely safe convention at this time. Like many other conventions around the country, we explored every option to try and do so. With current capacity limitations for indoor events, and an upward negative trend in COVID numbers, our Board of Directors believes it would be unwise to attempt any public gathering.
Answers to a few questions we believe will be frequently asked:
Q: What about my Badge for 2020?

A: Here's our plan for badges for NDK 2020:
Plan A: Transfer your NDK 2020 badge to NDK 2021 – This option will happen automatically for anyone who does not fill out our transfer form by September 15th.
Plan B: Donate your NDK 2020 badge fee to Rocky Mountain Anime Association- RMAA is the 501 (c)4 Nonprofit parent organization of Nan Desu Kan and NDKNYE. This option ensures that Nan Desu Kan remains financially stable, and helps with the everyday costs of running a business.
In addition, if you purchase both a 2020 badge, and NDK 2021 badge, will receive a special commemorative badge for NDK 2020, as well as a beautiful poster commemorating the "Lost NDK". You will receive both of these items when you arrive at NDK 2021.
For those that wish to donate, this is the best option to help us out. We truly appreciate those in the community and online who have offered to donate to ensure that Nan Desu Kan remains financially stable through NDK 2021.  This is the option that helps us fund the day-to-day cost of operations for NDK.
Whichever plan you choose, the form is located here: https://ndkdenver.org/registration/badge-transfer-queue/
Q: What about my hotel room?
A: If you registered your hotel room through the Marriott website in our Gaylord Rockies hotel room block, the Gaylord will automatically cancel your room by 7/13/2020. You will receive an email notification from the Gaylord when this is complete.
All room deposits will be refunded in full.  Please note that if you paid by credit card, it can take up to 5-7 business days for the refund to process.
If you registered your room through any other hotel, or online website, we suggest cancelling your reservation ASAP directly.
Q: What about my air / car / travel costs?
A: We apologize for the inconvenience.  We sincerely hope that you are able to cancel your reservation, or perhaps move it to NDK 2021, which is currently scheduled for September 3-5th, 2021.
Q: What did it take for NDK to be canceled?
A: As of 7/10/2020, The State Government has limited the capacity of people for indoor events to no more than 100 people per room. NDK and the Gaylord Rockies have both agreed that it is not possible to host or hold an event under these restrictions, and therefore, in support of those restrictions, NDK has been cancelled. 
Q: Why did you guys wait so long to announce this?
A: This pandemic has been a continually evolving and changing situation. We had been waiting for additional guidance on indoor events from the State Government, as well as talking extensively with the Gaylord Rockies to see if we could feasibly run a safe convention with extensive health measures. The Gaylord Rockies has been working tirelessly with the Governor's office directly throughout this pandemic, trying to find solutions.
Specifically, we were waiting to see if the mandated capacity for indoor events would increase above 100 people per room. This has not happened by 7/10/2020, and both RMAA leadership, as well as the Gaylord Rockies agreed that we would have to cancel this year because of this restriction.  Given the current COVID trends, it now appears highly unlikely that these restrictions will be eased by Labor Day weekend 2020.
July 1, 2020 - Update
July 1, 2020 – Update
For our July 1st update, we really hoped we would be able to announce something positive to the community.  With 65 days until Nan Desu Kan, we would normally be in full swing preparing for the convention, communicating with everyone via Social Media, asking for Panel suggestions, and announcing our Guests of Honor.
As an Organization, we have been quiet for the past weeks, waiting for more guidance from the Governor's office, watching the Covid trends, and talking with NDK Staff and Leadership about how we can move forward for the year.
We are preparing our big announcement on or around the 7th of July about our opening status, and how we are going to move forward. Stay tuned for that.
For now, we want to answer a few questions: 
Q: Why aren't you postponing the convention?
A: NDK's home is the Gaylord Rockies which is currently the most popular convention hotel in the state. At last check, the Gaylord is booked solid for the next 7 years. We literally cannot move weekends; there is no open space for us to move to. And if there were, the monetary penalties involved would be catastrophic. 
Q: Why not just cancel?
A: NDK is under contractual obligation with Gaylord Rockies. We cannot cancel the convention without an enormous cash penalty, and as a Nonprofit organization, we simply do not have the resources to do that. 
Q: What will it take for NDK to be canceled?
A: If there is a spike in COVID 19 cases, and the State Government puts a hold on all large events and activities, NDK and the Gaylord Rockies will agree with, support and abide by those restrictions.
June 1, 2020 - Update
As promised, we wanted to update the community on the current status of Nan Desu Kan 2020.  Currently, the Board of Directors of the Rocky Mountain Anime Association, in conjunction with the Gaylord Rockies Management Team are awaiting further announcements from the Governor of Colorado's Office in regards to guidelines for large gatherings.  We will continue to update this page as soon as we receive word from the State of Colorado, or July 1, 2020 at the latest.
The Board of Directors have been meeting regularly along with our Operational Department Leadership to discuss and plan strategies to conduct a safe convention. Reviewing and discussing COVID-19 concerns has been a topic of our meetings since our January 2020 Board Meeting.
At this time we ask for the patience and understanding of the community as we all await the latest guidelines from the State.
Rocky Mountain Anime Association, Board of Directors
March 30, 2020 - Update
With COVID-19 in full force here in Colorado, we've been getting many questions asking what the plans for Nan Desu Kan are. With the constant evolution of the virus, and the constant stream of news popping up about it, the Board of Directors did not want to add to the number of 'special announcements' and press releases that were coming out every other minute. There was plenty of other information to digest at the time, and with NDK so far away, we didn't want to add to the noise. That being said, let's get to it.
Our current plan is to hold Nan Desu Kan as planned on Labor Day weekend this year. We will continue business as usual unless the Local Government tells us we should not.
We will continue to monitor the virus and it's impact as the months go on, and as we get closer to NDK. With summer coming, health officials have stated their expectation of the virus to go dormant, and this should put us in a good position to (hopefully) still hold NDK as normal.
Another good thing to know is that the Gaylord has taken great measures to insure the health of our attendees, doubling the number of hand sanitizer stations on the convention floor, as well as increased signage reminders about the importance of handwashing. As a Board, we will be looking into social distancing practices for the convention floor to use if necessary.
We hope that all of you and your loved ones stay safe and healthy. Please know that we think of you all constantly, and send you all our best wishes during this time.
Rocky Mountain Anime Association, Board of Directors
Greetings NDK Family! Artists Alley Signup for NDK 2020 is officially live!  Signups will go through March 29, and close at 11:59 pm. (In light of everything happening in the world, we at NDK have decided to extend the deadline one additional week for Artist Alley...
Greetings NDK Family, We're happy to announce that we'll be launching the 2020 Gaylord Rockies Hotel Registration Link Thursday, February 20, 2020 at 12:15 pm.  We look forward to everyone getting their rooms for this years Nan Desu Kan, and we hope you enjoy this...